Sydney siege: Eyewitness accounts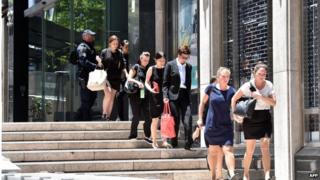 The siege at a Sydney cafe is over.
Australian police stormed the building where a gunman had been holding several hostages.
The BBC spoke to eyewitnesses in the area as the events first unfolded.
---
Glenn Connley, senior producer-reporter with Channel 7 News Investigation
The cafe is immediately across from our office, we have windows that look into the Lindt cafe.
Somebody in our office noticed that a person looked like he was being held against their will and his hands were up against the window. Seconds later there were a number of people who had their hands up, and someone was walking behind them.
Then in a few more minutes, a black flag appeared in the window alongside where the hostages were held. Initially we thought it was an armed robbery, but when the flag went up, it appeared that someone had a different motive altogether.
We took some cover, we moved to the back of our building, and subsequently the police came in and evacuated us. I went to a nearby hospital forecourt with a cameraman. We were about 100m away from the cafe, and had a view of the main door.
The group of hostages were being moved around the cafe. They appeared calm but also looked very frightened. I can't say how many there were.
We could see one gunman from time to time. He was wearing a white shirt, a vest and a backpack, with a gun slung over his shoulder. He appeared to be using someone as a body shield.
The police physically grabbed me and frogmarched me out. We've since been moved back and all we can see is the police presence.
---
Siouxsie Ford, partner at a Sydney law firm
I'm on a building about a block away from the Lindt cafe. From my window I can just see the edge of the cafe door. Our building is currently in lockdown.
I came into work just before 09:00 and I received a text message from a friend saying she was watching TV and asked if I was okay. I looked out of the window for the first time and saw police moving people down the street and police setting up a cordon. They've since moved the cordon twice, further down the street.
People left in their cars, and then a SWAT team of about five to six officers arrived. There's a large media presence around the security perimeter, an ambulance, a fire truck and police cars.
We are very concerned about what's going on inside the cafe. People in my office are watching out of the windows, or watching what's happening on TV.
The building management has been broadcasting alerts. We were told the lifts and doors were locked.
---
Abby Hempfling, public relations and communication branch manager at a wealth management company
My office is about a block and a half away. They've blockaded the area just outside, the building across the street has been evacuated and we're in lockdown.
I was in a morning meeting and someone ran in to interrupt to say there was a situation in Martin Place. We were obviously then trying to decipher what was in fact going on and what reports were true.
By the time my colleagues and I got back to our desks, our phones had all been ringing with messages and texts finding out if we are okay.
I don't think it's so much that we're scared for our own safety at all but obviously concerned for those inside. It's just very surreal that something like this is actually happening so close by. It could have been any of us at that cafe. I had gotten a coffee about 45 minutes before that, not at the cafe but another one a minute away.
Everyone is just kind of glued to the TV and looking out the window. You kind of try to do work but keep watching for updates. The radio is on and so is the TV. It's hard to focus. It's a very sobering thing to watch kind of unfolding outside the window.
I am American so I was in the States during 9/11 though at that time I was still pretty young, in high school. It's very different but it's still just that state of confusion and people being really nervous that rings a bell.
Andrea Proctor
We were dropped off in a taxi en route to a meeting. We couldn't actually go any further, so we were told we needed to get out of the taxi, and it just so happened that the event had literally just unfolded as we got out right at the bottom of Martin Place.
As we got out there was a huge amount of commotion and lots of police officers around and roads being cordoned off. I asked a passer-by what had happened and they said somebody had just gone in to the building with a shotgun.
I walked down further to have a look and things started to escalate. We realised that the situation was quite serious when there were many police officers that started to come around us with guns ... one of the police officers at the bottom, round the Lindt cafe, held his weapon out. So we were then told that we needed to retreat back and move away and find alternative routes to wherever we were going.
The eyewitnesses spoke to the BBC's Tessa Wong.