Australian sailors on asylum operations 'traumatised'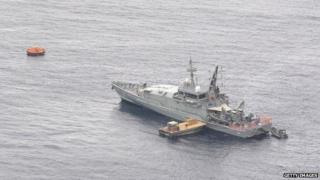 Sailors from the Royal Australian Navy say they have suffered trauma after having to pull dead asylum seekers from the ocean while on border patrol.
Some complained of not receiving adequate support from their superiors, ABC reported, while others said government policy had led to the deaths of dozens of asylum seekers.
A government spokesman said officials prioritised the saving of lives at sea.
Tens of thousands of asylum seekers try to reach Australia every year by boat.
According to a report from the UN's refugee agency, Australia received 24,300 asylum claims in 2013 - making it the eighth largest recipient of asylum seekers in the industrialised world.
Successive governments have tried to halt the arrival of illegal migrants in Australia. Under Prime Minister Tony Abbott, boats are turned around or towed back to sea, while all asylum seekers arriving by sea are detained offshore.
'Line of bodies'
In a series of interviews with ABC, former and serving sailors on border patrol operations told of having to retrieve bodies from the ocean after vessels carrying asylum seekers had capsized or sunk.
All of the navy personnel interviewed had served during the Labor governments of Kevin Rudd and Julia Gillard, said ABC.
One serving Royal Australia Navy (RAN), officer, named only as Michael, described what he saw after arriving on the scene 13 hours after a boat had sunk.
"All we found was probably a line about 70 miles long of bodies," he said, according to ABC.
"We fished them out for as long as we could, 'til we were full. And that wasn't uncommon."
An officer named as Greg, who ABC said had recently been medically discharged from the navy, said: "Occasionally…you'll board and there will be a vessel with deceased people on. They'll be crammed in with them, because they can't move them."
One man, Troy Norris, said he was discharged suffering from post-traumatic stress disorder after spending 13 years intercepting asylum seeker vessels.
He said his medical condition was not taken seriously and that a superior showed "no compassion" during the process of terminating his position.
Life and death
According to some of the interviewees, decisions taken by the Australian government indirectly led to the deaths of asylum seekers at sea.
Australia and asylum
Asylum seekers - mainly from Afghanistan, Sri Lanka, Iraq and Iran - travel to Australia's Christmas Island by boat from Indonesia
The number of boats rose sharply in 2012 and early 2013. Scores of people have died making the journey
To stop the influx, the government has adopted hard-line measures intended as a deterrent
Everyone who arrives is detained. Under a new policy, they are processed in Nauru and Papua New Guinea. Those found to be refugees will be resettled in PNG, Nauru or Cambodia
Tony Abbot's government has also adopted a policy of tow-backs, or turning boats around
Rights groups and the UN have voiced serious concerns about the policies and conditions in the detention camps. They accuse Australia of shirking international obligations
Australia asylum: Why is it controversial?
A serving navy officer, who name was given only as Fiona, said ships' captains were sometimes told not to board vessels until they were in Australian waters so the passengers could then be subject to Australian migration law.
On at least one occasion a boat carrying asylum seekers sank as a result, she said.
Responding to the allegations, a statement released to ABC by the Department of Defence said: "RAN members…have access to a full range of mental health care, including medical, psychological and psychiatric treatment and rehabilitation programs."
The statement said that the "preservation of life at sea is the highest priority for the commanders of all vessels", adding: "Decisions are taken based on all available information with the balance of weight allocated to the on-the-scene assessment by commanding officers of safety and prevailing weather conditions."