Australia to debate asylum bill despite UN concerns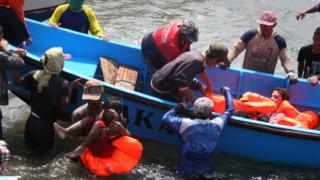 Australia's Senate is due to consider legislation tightening its asylum seeker laws, despite the UN expressing strong concerns.
The Migration and Maritime Powers bill, listed for debate this week, seeks to expand the immigration minister's powers and deter arrivals by boat.
Critics say the bill would let the government remove asylum seekers, even if they are at risk of persecution.
The UN says Australia's policies could violate human rights treaties.
In November, the UN Committee against Torture scrutinised the treatment of asylum seekers by Australia at offshore processing centres on Manus Island in Papua New Guinea and on the Pacific republic of Nauru, as well as the detention of children and efforts to combat people smugglers.
In its final report it called on Australia to stop putting children and young families into detention except as a "measure of last resort".
The report, released on Friday in Geneva, said Australia should "refrain from adopting any legislative or other measures that may lower the existing safeguards and standards of protection which could constitute a violation of its obligations under the Convention".
However, the Australian government has defended its past practices regarding asylum seekers and its proposed new legislation.
Immigration Minister Scott Morrison has said the main purpose of the Migration and Maritime Powers Legislation Amendments Bill 2014 is to deal with more than 30,000 "boat people" who arrived over the last year of the previous Labor Government and are either in detention centres in Australia or living in limbo in the community.
The bill would prevent most of those found to be refugees from ever seeking permanent protection or bringing family to join them. It would also extend Mr Morrison's powers and curtail review of his decisions.
Refugee lawyers and human rights activists are worried about proposed expanded maritime powers including the power to detain people at sea and to send them to other countries without the permission or knowledge of those countries.
They have also expressed concerns about the classification of around 100 children born in Australia as "unauthorised maritime arrivals", rendering them stateless and cutting their access to health care and legal protection.
The UN report said Australia "should guarantee that all asylum claims are thoroughly examined and that the persons concerned have a real opportunity to effectively challenge any adverse decisions adopted concerning their claims".
Australia, "should also guarantee that all asylum seekers have access to independent, qualified and free-of-charge legal assistance during the entire asylum procedure," it said.
At the public hearing in Geneva last month, the committee's chairman Claudio Grossman told the Australian delegation that detainees endured lives of great uncertainty.
"We hear also that in Nauru the processing of [refugee] claims lasts for around 10 months and in PNG two years. I can imagine that would produce tremendous anxiety in people. I can't imagine the number of people that are there and don't know where they are or what is happening to them," he said.
Mr Grossman was among 10 independent anti-torture specialists who were part of the UN investigation into Australia's record.
Australia defended its immigration policies in the face of tough questioning by the UN panel.
Its ambassador to the UN, John Quinn, said Australia took its obligations very seriously.
"Since ratifying the convention [against Torture] in 1989, Australia has worked to ensure Australia's laws, policies and practices are consistent with our international obligations," Mr Quinn said.
Australia and asylum
Asylum seekers - mainly from Afghanistan, Sri Lanka, Iraq and Iran - travel to Australia's Christmas Island by boat from Indonesia
The number of boats rose sharply in 2012 and early 2013. Scores of people have died making the journey
To stop the influx, the government has adopted hard-line measures intended as a deterrent
Everyone who arrives is detained. Under a new policy, they are processed in Nauru and Papua New Guinea. Those found to be refugees will be resettled in PNG, Nauru or Cambodia
Tony Abbot's government has also adopted a policy of tow-backs, or turning boats around
Rights groups and the UN have voiced serious concerns about the policies and conditions in the detention camps. They accuse Australia of shirking international obligations.
Australia asylum: Why is it controversial?