Australia defence abuse report calls for royal commission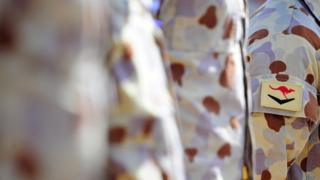 A report into widespread abuses at the Australian Defence Force Academy (ADFA) has said a royal commission should be held to investigate.
The Defence Abuse Response Taskforce's report said there was a "disturbingly high incidence" of sexual abuse of female cadets at ADFA in the 1990s.
In some cases, appropriate action was not taken against perpetrators.
The report was one of two tabled in parliament by Defence Minister David Johnston on Wednesday.
It also found that a number of individuals allegedly responsible for sexual abuse at the academy were still serving in the defence forces.
The government established the taskforce in 2012 as part of its response to an earlier review of allegations of abuse in the defence forces.
Although it has not recommended a royal commission investigation into the broader defence forces, the taskforce found "a disturbing account of abuse that has occurred in all three primary defence services - the Royal Australian Navy, Australian Army, Royal Australian Air Force - as well as abuse experienced by Australian Public Service employees in the Department of Defence".
It added: "The taskforce has received a significant number of complaints of serious acts of sexual abuse, sexual harassment, physical abuse and harassment and bullying carried out within all services in defence, dating back to the 1940s and up until the taskforce's cut-off date of 11 April 2011."
Its separate report on the broader defence forces found the abuse reported was experienced by men in a majority of cases but that women were significantly overrepresented in comparison to the proportion of women serving in defence.
"Relevant factors in sexual abuse generally included the targeting of people who were in vulnerable positions, such as when isolated or asleep, the use of physical violence, the consumption of alcohol by both the complainant and alleged abusers, and the presence of multiple alleged abusers in a number of cases," it said.
A significant amount of abuse reported to the taskforce occurred between 2000 and 2011 and in most complaints in recent years "abuse was carried out by persons of higher rank, including an increasing number of female alleged abusers".
The government has yet to respond to the report.