Australia cruise ship passenger missing off Sydney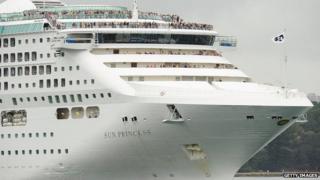 Officials in Australia have called off a search for an 84-year-old man believed to have gone overboard from a cruise ship east of Sydney.
The unnamed man went missing from the Sun Princess overnight.
The maritime safety authority said later there had been no sightings of the man and he was unlikely to have survived the 25m fall from the ship.
The ship, operated by Princess Cruises, stayed in the area during the search rather than continuing to Sydney.
Australian Maritime Safety Authority (AMSA) spokesman Mal Larsen said the circumstances behind the incident were not yet clear.
He said the man was believed to have gone overboard at about 21:00 local time (10:00 GMT) on Monday about 280km (175 miles) east of Sydney.
The Sun Princess had been on its way to Sydney after completing a 13-day New Zealand cruise.
A statement from Princess Cruises said a thorough search of the ship was conducted but the passenger could not be found.
"The Rescue Co-ordination Centre (RCC) in Canberra was contacted and Sun Princess turned around and retraced its path off the coast of New South Wales," it said.
AMSA later said that CCTV footage showed the man falling 25m from the ship, and that medical experts said he was very unlikely to have survived
"The search aircraft and ship have found no trace of the missing passenger," the statement said, adding that his next of kin had been informed.