Australia's public broadcaster ABC unveils 10% job cuts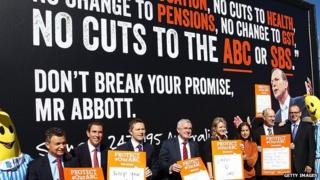 More than 400 staff may lose their jobs at the Australian Broadcasting Corp (ABC) because of government budget cuts, its managing director says.
The losses could close some 10% of the ABC workforce, Mark Scott told staff at the Sydney headquarters on Monday.
He said some ABC property may be sold, while its Adelaide TV production studio as well as five regional radio stations would be closed.
The government last week announced a 4.6% cut in the budget over five years.
While television sporting broadcasts would be scaled back, Mr Scott said, the ABC is investing more money on its digital and online reporting.
'No comfort'
The government is also slashing the budget of Australia's multilingual Special Broadcasting Service (SBS) by more than A$50m (£27.6m; $43.5m).
Together, the ABC and SBS receive A$1.4bn every year from the government.
But last week, the government unveiled a A$254m cut to the ABC's budget over the next five years.
Mr Scott said he regarded the changes to the ABC "as vital to securing the long-term health of the organisation" but said he acknowledged "that is no comfort to those who will lose their positions".
The broadcaster's foreign bureaux will be restructured to create "multiplatform hubs", and a new Beirut post will be opened.
A new regional division and ABC Digital Network will also be created, including an A$20m digital investment fund.
Supporters of the Australian broadcaster have accused the government of punishing ABC for its perceived left-wing bias.
However, Communications Minister Malcolm Turnbull last week said the budget cuts were "not punitive".
"They are part of a government savings exercise because we've got a problem with the budget. There's no reason for the ABC to be exempt from that," he said.