Jacqui Lambie quits Australia's Palmer United Party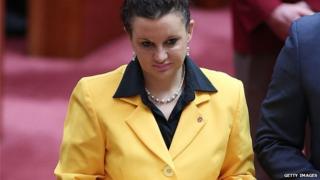 Senator Jacqui Lambie has quit the Palmer United Party (Pup) in a further blow to the Australian coalition government's grip on the Senate.
The Tasmanian senator says she will now serve as an independent amid a growing row with Pup leader Clive Palmer.
Her resignation weakens the minority party's power in the Senate, leaving it with only two votes.
The government has frequently relied on the Pup - a minor parliamentary party - to pass legislation.
Experts say Sen Lambie's decision to sit as an independent will make getting these votes much tougher.
Policy row
The 43-year-old former army corporal this month warned a split in the Pup would only be avoided if its leader, billionaire businessman Clive Palmer, adopted more of her policy positions.
She also said that she would vote against all government legislation unless a pay deal for the Australian Defence Force (ADF) was improved.
The pay deal delivered a lower-than-inflation annual increase of 1.5%.
Tension between her and Mr Palmer deteriorated early on Monday when he said that Sen Lambie was planted by someone powerful and ordered to "act irrationally" within the party.
"When you start a new party like our party the established parties and others try to wreck it," Mr Palmer told ABC radio.
Australian Motoring Enthusiast Party senator Ricky Muir's recent decision to shift his vote away from Pup to other minority and independent senators has also weakened the government's position.
In the first major defeat for the government, Sen Lambie and Sen Muir last week removed their support for the federal government's wind-back of existing financial advice reforms.
Sen Lambie says she will not vote for the government's proposed changes to higher education fees, increased fees for visits to GPs and a paid parental leave scheme unless the government shifts on defence forces' pay.
"If Mr Abbott admits his mistake, apologises and allocates the extra A$121m ($105m; £67m) to raise the ADF pay offer to 1.5% as well as Christmas leave and travel entitlements then I feel sure the Australian people will forgive him and he will be viewed as a better leader," she said.