Great white shark caught in net at Sydney's Bondi beach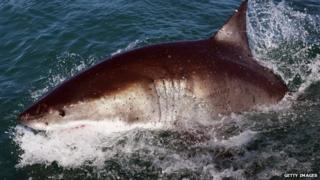 A dead shark has been pulled from the nets at Sydney's Bondi beach.
The 2.5 metre (8ft) great white shark was found during routine inspections by contractors hired by the New South Wales government to check the nets.
The department of primary industries staff would carry out an autopsy on the shark, a spokesperson for the agency told local media.
Many of Sydney's beaches have nets to protect the public from sharks but they do not stretch across the entire beach.
Shark meshing of Sydney beaches began in 1937, with areas outside the city included in later years.
Meshing programme
Currently, 49 beaches in NSW are netted, covering about 200km (124 miles) of coastline. But they are only set for eight months of the year - from September to April.
The nets are not designed to create a total barrier between swimmers and sharks but they have proved effective in reducing the number of attacks, according to the department.
The meshing programme has caught and killed thousands of sharks since they were introduced - but many of them are species that are not believed to be responsible for attacking humans.
Officials say the programme protects about two million swimmers every year.
There have been several shark attacks off Australia's beaches in recent years.
In September, a British man was killed off a beach in Byron Bay, NSW, the most easterly point on the Australian mainland.
---
Shark attacks in Australia
New South Wales sees more attacks than any other state, followed by Queensland and Western Australia
The Northern Territory and Tasmania see the fewest attacks
Attacks in 2014: Man killed at Byron Bay (Sept), NSW, woman killed at Tathra Beach, NSW (Apr), man killed off Goldsmith Beach, SA (Feb)
Attacks in 2013: Man killed at Campbell's Beach, NSW (Nov); Man killed in Gracetown, WA (Nov)
Sept 2011-Jul 2012: Five people killed off Western Australia's beaches
Sources: Tarong.org.au, Australian media reports