Australia's Pauline Hanson returns to lead One Nation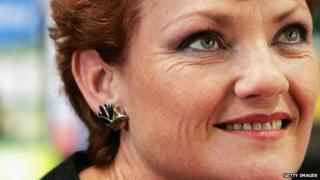 Pauline Hanson will return as leader of Australian far-right party One Nation, which she co-founded in 1997.
Ms Hanson made the announcement on the party website, saying the party had floundered in her absence.
One Nation rose to prominence with a mix of conservative and anti-immigration policies before Ms Hanson was removed as leader in 2002.
In 2003, she was sentenced to jail for electoral fraud but the convictions were overturned on appeal.
She then made several unsuccessful attempts to re-enter state and federal parliament as an independent.
Ms Hanson said the party will field candidates in the upcoming Queensland state election, but not in New South Wales, where the party is not registered.
"One Nation has been floundering for many years, this is not what I want for the party I founded on Australian values and a fair go," Ms Hanson said in the statement.
"I was terribly concerned for Australia when first in parliament, but more so now," she said.
Rival to Palmer
Ms Hanson also singled out some of the issues the party would campaign on.
"We are witnessing large amounts of our prime farming land and housing sold to foreign ownership," she said.
She also said multiculturalism was dividing Australia and that halal products were being "forced" on the population.
Her announcement comes just days after Australia finalised a historic trade deal with China. One part of the agreement would make it easier for Chinese investors to purchase Australian land.
In her statement, Ms Hanson also mentioned the fractious Palmer United Party (Pup) founded by Queensland billionaire Clive Palmer.
The Australian government regularly relies on independent senators and minority parties such as the Pup to pass legislation in the upper house. However, the government's power to control the senate has become more tenuous following an apparent split in the Pup.
Pup senator Jacqui Lambie has threatened to vote against all government legislative bills unless Armed Forces servicemen and women receive a better pay deal.
Senator Lambie on Wednesday threw her support behind the Labor opposition and the Greens to repeal the government's financial advice regulations.
"I thought that Clive Palmer and Pup would be the answer," said Ms Hanson, "I don't think he is, I don't think his heart is with Australia," she said in a television interview.
One Nation members are expected to formally endorse Ms Hanson as leader at a meeting on 29 November.