Controversial financial advice law 'can be repealed'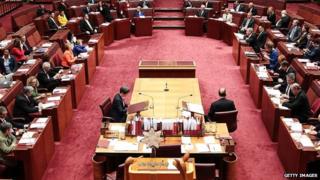 In a setback for the Australian government, regulations that critics say potentially exposed consumers to bad financial advice could be repealed.
Four crossbench senators joined with the Labor and the Greens to overturn changes to financial advice laws.
The government had removed key consumer protections originally introduced by the former Labor administration.
Labor now appears to have secured the support it needs in the Senate to reverse the regulations.
The government had struck a deal with minor Palmer United Party (Pup) in July to push through the Senate changes to Labor's Future of Financial Advice (FoFA) laws.
But following a high-profile row with her party members, Pup Senator Jacqui Lambie has now thrown her support behind Labor for a repeal of the laws.
'Common sense' coalition
Crossbenchers Ricky Muir and John Madigan, and independent senator Nick Xenophon have also joined with the opposition on the issue.
Sen Xenophon said that - despite political differences - "we have banded together as a coalition of common sense".
"Our common, unequivocal objective is to have the government's FoFA regulations disallowed today (Wednesday) in the Senate because they are unambiguously bad for consumers," he said at a press conference.
"It's particularly pleasing that Senators Lambie and Muir have listened to the concerns of consumers, and particularly victims, to come to this position."
Consumer advocates have applauded the introduction into the Senate of a motion to disallow the Corporations Amendment Regulation 2014.
The regulation had taken effect on 1 July 2014 but can be repealed if the disallowance motion is supported by a majority of senators.
Chief Executive Officer of consumer group CHOICE Alan Kirkland said the FoFA regulations had delivered "everything that the big four banks and financial advice industry wanted, and exposed consumers to significant risk".
"We have seen scandal after scandal where financial advisers have taken advantage of their clients," he said.
Finance Minister Mathias Cormann accused Labor and the Greens of "holding a gun to the government's head".
"Whatever you think about the legislation in substance, the regulation has been the law of the land for four months," he told the Senate.