G20 summit: Leave your kayak and snake at home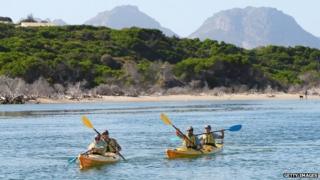 G20 summits are a magnet for protesters.
The last time it was held in Australia, in Melbourne in 2006, there were violent clashes between police and demonstrators.
This conference, in Brisbane, will see Australia's biggest deployment of police and soldiers, and police have been given extended powers.
Twenty-seven different groups have been given permits to protest at designated areas and thousands of people are expected over the weekend. But there is an eclectic list of items which they will not be allowed to take into the security buffer zone near the venue.
Eggs
In fact, no projectiles at all. The examples given are "stones, ball bearings or eggs". Animal manure, and any other "noxious or offensive substance", are also out.
Weapons
Unsurprisingly, any kind of weapon is banned. The list includes longbows, spear guns, bolt guns, arrows, blowpipes, swords, antique firearms and explosives.
Climbing
No climbing "onto, under, over or around" barriers erected by the G20 security.
Large signs
Protest signs are welcome - and as ever, are likely to be creative in their criticisms of world leaders. But the legislation contains specific restrictions on the size of banners and placards allowed. They must be no more than 100cm high x 200cm wide.
Political billboards
Brisbane Airport, which will welcome world leaders to the summit, would not allow two adverts to be displayed on the grounds they were overly political. One of the adverts campaigned against climate change, the other corruption.
In a statement the airport said "we believe the airport shouldn't be used as a platform for partisan views, whether we agree with those views or not".
Kayaks
The laws forbid "a manually operated surf ski or surfboard, kayak, boat or canoe".
Fires
Do not start fires near the G20 summit. But you can be exempt from this rule with a lawful excuse. The very Australian example given is "a chef at a restaurant in a declared area who lights a gas barbecue".
Masks
Masked protestors have been a feature of previous G20 summits, but this one bans masks, balaclavas, and anything capable of disguising or concealing a person's identity. There are exceptions for religious clothing, which is pertinent given Australia's recent political wrangling over Islamic attire.
Reptiles
Bad news for anyone wanting to bring a pet snake to a protest. "A reptile, insect or other animal capable of causing physical harm if released in close proximity to a person" are all prohibited.
Kites
"... or other device suspended by airflow and controlled by a string or cord attached to it." Toy cars and model planes are out too.
And one that was not banned...
A Brisbane roundabout
Ahead of the meeting, President Obama's delegation wanted the demolition of a roundabout in Brisbane so that his armoured limousine aka The Beast would not have to slow down, according to reports in newspaper The Australian. But the request was denied.
Brisbane Times, however, quoted a transport ministry spokeswoman as saying she was not aware of any such request.