Canberra monitoring Russian warships 'nearing Australia'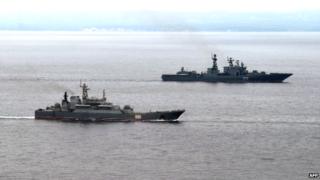 Australia says it is monitoring four Russian naval vessels that are approaching its waters to the north of the country.
The Australian Defence Force said two frigates and a surveillance aircraft had been sent to track the warships.
In a statement, it said the Russian vessels were heading towards Australia but remained in international waters.
Analysts say it is a show of force by Russian President Vladimir Putin ahead of the G20 summit in Brisbane.
"The movement of these vessels is entirely consistent with provisions under international law for military vessels to exercise freedom of navigation in international waters," the ADF statement read.
The ADF said Russian naval vessels have previously been deployed in conjunction with major international summits, including the Apec summit in Singapore in 2009.
"A warship from Russia's Pacific fleet also accompanied former Russian president Medvedev's visit to San Francisco in 2010," the statement added.
Mr Putin is due in Australia this weekend to attend the G20 summit.
'Flexing a little muscle'
James Brown, a military fellow at the Lowy Institute, said the movement of the four Russian vessels comes just days after a Russian missile cruiser conducted unilateral live-fire drills in the South China Sea.
The reason for this level of Russian naval activity in South East Asia, Mr Brown wrote in a blog post, seems "to be to flex a little muscle".
On Wednesday, Australian Prime Minister Tony Abbott held talks with Mr Putin at the Apec summit in Beijing focused on the downing of flight MH17 over Ukraine in July.
All 298 people on the Malaysia Airlines plane died in the incident, including 38 Australians.
The Australian leader has previously said those on the plane were "murdered by Russian-backed rebels using Russian-supplied equipment".
Mr Putin has denied Russia had any involvement in the incident.
A statement from the Kremlin released after the talks said both leaders spoken "robustly" in favour of speeding up the investigation, saying it was "unacceptable" that experts were still unable to access the crash site.