Australian fans of English football show their colours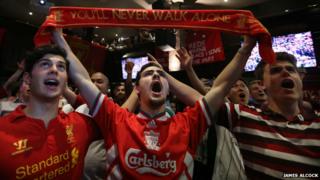 What makes someone in Australia pledge their loyalty to a football team on the other side of the world, a team they may never see play in the flesh?
The banners are hung, the replica shirts are on, and the crowd standing shoulder-to-shoulder are belting out a heartfelt rendition of You'll Never Walk Alone, the anthem of Liverpool Football Club.
Fans have gathered to watch English Premier League team Liverpool take on Chelsea at home. But Liverpool's Merseyside is 17,000 km(15,500 miles) away. This is 11:45 on a Saturday night in the Cheers Bar on Sydney's George Street, home of the Official Liverpool FC Supporters Club, NSW.
Cable TV coverage of English football, which began in the 1990s, has fuelled a fan base that now spans the globe. One of those global supporters, Andy Gargett, recalls watching his first English football game on TV.
"Mum and dad let me stay up late to watch the Liverpool versus Everton 1989 cup final," says Mr Gargett, chair of the Supporters Club. "I was eight at the time, and it started at midnight."
Originally from Melbourne and now living in the Sydney suburb of Leichhardt, a Liverpool win in extra time ignited Mr Gargett's passion for the club that still burns strong.
A global fanbase
While the Supporters Club pulls in some expatriates, the membership is 70% Australian-born.
In 2007, Mr Gargett, 34, made the trip of a lifetime and travelled to the UK to Anfield, Liverpool's home ground. Initial scepticism from locals about his allegiance to the club soon gave way to warm acceptance, he says.
"You buy into an identity with the club, which I think is stronger than with other clubs because it captures an essence of the city, the history."
Nine minutes into the game in the Cheers Bar and the 200-strong crowd suddenly erupts with one voice as new Liverpool signing Emre Can scores with a rocket of a shot from 30m.
Grant Furner, 36, is another die-hard Liverpool fan. Growing up in NSW's Hunter Valley in the 1980s, Mr Furner's interest began with the Hunter's local hero Craig Johnston playing for Liverpool FC - the first Australian to join a top-flight English club.
"Football was more difficult to follow then," says Mr Furner, now secretary of the Supporters Club. "The local teams were ethnically-based, and there was a lot of peer pressure to follow rugby league," he says.
The high point for Mr Furner came last year, when he saw Liverpool live for the first time at the Melbourne Cricket Ground, beating Melbourne Victory 2-0. "It was brilliant!" he recalls. "In front of 95,000 people, it was the biggest crowd Liverpool FC has ever played in front of."
Back at the Cheers Bar, the mood changes as Chelsea defender Gary Cahill heads a scrappy goal. Liverpool fans begin to wonder if this is a turning point.
On the other side of the city, at the Aurora Hotel on Elizabeth Street, the game has just restarted. This is home to the Chelsea FC Australian Supporters Club.
A refrain of "You nicked my stereo!" (to the tune of La donna é mobile from Rigoletto) reverberates around the 150-strong crowd - an allusion to negative stereotypes about the habits of Merseysiders.
Steven King, an 18-year-old student from Sydney suburb of Sans Souci, proudly sports his Chelsea shirt. Like many Australian Premiership fans, he also follows Australia's A-League but admits the standard of Australian football remains well below that of the English Premier League.
"When I was in Ireland in 2010, my family there couldn't comprehend why I didn't support a Premier League team. I decided to go with Chelsea, partly to get a bit of banter going with my Tottenham-supporting dad, but also, if I am going watch a game at an ungodly hour, I want to watch an exciting team."
Hardcore fans
Depending on kick-off times and daylight saving, this "ungodly hour" in Australia can range from late evening to very early morning. Chelsea fans celebrating their Champions League final win in 2012 staggered out of the Aurora at 07:00, and went straight to work.
"I see myself as a pretty hardcore fan, and try to be at the Aurora, whatever the time is," says Panayioti Stathakis, a 21-year-old retail worker who lives in Sydney's inner west.
Last season, he visited Chelsea's home at Stamford Bridge in west London to see his team play live for the first time, a trip many Australian fans don't get to make.
There's only 25 minutes remaining of the game and Chelsea's new star signing Diego Costa scores the best and what turns out to be the winning goal. In the Aurora pub, in the melee of blue shirts, a table goes over and drinks fly, but few notice and nobody minds.
When the din subsides, a smiling Mr Stathakis quips a line repeated by Chelsea players and supporters the world over. "Once a Blue, always a Blue. You can't take the Blue out of people…"