Talks on renewable energy break down in Australia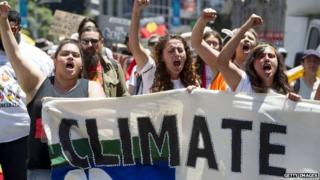 Negotiations to establish a bipartisan commitment to renewable energy in Australia have collapsed.
The opposition Labor Party has walked away from talks with the government about generating 20% of the country's power from renewable energy.
Labor environment spokesman Mark Butler said Labor rejected the government's plan to dramatically cut the target.
The collapse in talks comes ahead of the arrival of world leaders in Brisbane for the G20 summit.
Climate change is among the issues to be discussed at the summit.
In 2010, the then Labor government set a target of generating 41,000 gigawatt hours (or about 20% of demand) of renewable energy by 2020.
Prime Minister Tony Abbott wants to cut that to a "real 20%" instead of 20% on 2010 levels, which means the amount of renewable energy generated would drop to 27,000 gigawatts.
Mr Butler said the government's plan would destroy thousands of jobs and billions of dollars worth of investment. He said it would also increase domestic electricity prices.
"Labor entered into discussions with the government in a desperate attempt to re-establish bipartisan support for the Renewable Energy Target (RET) and protect Australia's renewable energy industry," Mr Butler said in a statement .
"Labor believes a strong Renewable Energy Target is a critical part of Australia's response to climate change and transitioning our economy to a clean energy future," he said.
'Surprised'
In the talks that had taken place so far, Labor had proposed additional support for the aluminium industry, Mr Butler said, but raised serious concerns about restrictions on the rooftop solar industry.
The government has said the RET cut would take account of a decline in overall demand for electricity that has been sparked, in part, by higher power prices. It also says the lower target would provide certainty to the renewables sector.
Environment Minister Greg Hunt said on Wednesday that he was surprised Labor had abandoned the talks.
"They need to explain why they have walked away," Mr Hunt told reporters.
"We are committed to 20% of renewable energy, we are open to talks. We are surprised that they have walked away from what looked like an agreement," he said.
Since the government announced the lower target, a number of renewable energy companies have announced they would reduce their investments in Australia and sack employees because of the lack of support for the industry.