Tony Abbott offers lukewarm support to China-backed Asia bank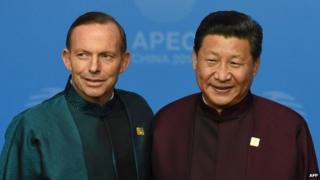 Australian Prime Minister Tony Abbott has offered lukewarm support to a new regional development bank for Asia, but says its actions must be transparent.
Speaking at the Asia-Pacific Economic Co-operation (Apec) summit in Beijing, Mr Abbott said such a bank would be "good for growth and good for jobs".
But he said Australia would only sign up to "a genuinely multilateral body".
The idea of the Asia bank, proposed by China, is for it to lend money to major regional infrastructure projects.
Mr Abbott said he was seeking assurances that the Asian Infrastructure Investment Bank (AIIB) would have "the sorts of governance and transparency that other multilateral institutions have".
This would make sure "no one country can unilaterally control" the body, he added.
"If and when we get that, I think it will be a good contributor to growth in our region and in the wider world," Mr Abbott told reporters.
US President Barack Obama, who met Mr Abbott on the sidelines of the Apec summit on Monday, echoed the Australian leader's concerns and said the bank had to be transparent, accountable and truly multilateral.
"Those are the same rules by which the World Bank or IMF (International Monetary Fund) or Asian Development Bank or any other international institution needs to abide by," Mr Obama said.
Australia has made reducing barriers to infrastructure investment a focal point for the agenda for this weekend's meeting of world leaders at the G20 summit in Brisbane.
It also signed a memorandum of understanding with the Chinese government in 2012 on enhancing co-operation in infrastructure construction.
Economic and political commentators have said Australia and the US are worried the AIIB's lending decisions could be used by China to promote its own interests.
The 21 founding member countries of the AIIB agree the basic parameter determining the capital structure of the new bank will be relative gross domestic product.
Taken at face value, this would give China a 67% shareholding, banking experts have estimated.