Leaking sinks force Virgin Australia plane landing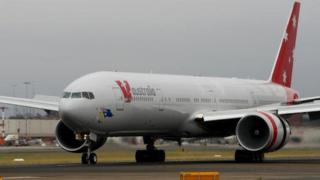 A Virgin Australia aircraft bound for Sydney was forced to turn back to Los Angeles and land after sinks on board leaked.
Passengers claimed the stench was "unbearable" and said human waste had reached the aisles, however the airline denied this.
Virgin Australia said the flight was turned around for the comfort of those onboard.
The airline said safety of passengers was never called into question.
"In accordance with standard operating procedures, the captain made the decision to return to port as a precautionary measure after two of the sinks on board were leaking," the airline said in a statement.
It did not reveal what had caused the problem.
A resident of Christchurch, where the plane was headed after Sydney, said the smell was "unbearable".
"We could see it [human waste] it go through the aisles, like it was very obvious," Julia Malley told New Zealand radio.
However, Virgin has denied there was leakage from the toilets onboard.
"The onboard toilets operate on a completely separate drainage system," the airline told the Sydney Morning Herald.
"As the issue was with the aircraft sink, and not the toilets, there was no incident of leaked human waste."