Australia government reaches emissions reduction deal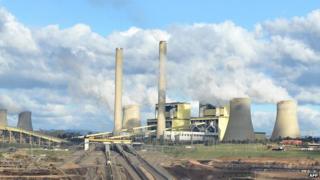 The Australian government has reached a deal with a key political party and independent senators to push through a carbon emissions plan.
The Palmer United Party, led by mining tycoon Clive Palmer, and senators Nick Xenophon and John Madigan agreed to a controversial emissions reduction fund.
The A$2.5bn (£1.4bn, $2.2bn) fund will be used to pay big polluters to cut emissions and use cleaner energy.
The deal was criticised by the opposition and environment groups.
Australia has one of the world's highest carbon emissions per capita.
The new carbon emissions plan replaces a carbon tax scheme which senators voted to repeal in July.
Prime Minister Tony Abbott's ruling coalition had campaigned partly on repealing the carbon tax and replacing it with its own reduction plan.
Concessions
In order to push through the plan, the Australian government agreed to some concessions suggested by Mr Palmer and other senators.
It will not abolish an independent climate change body as planned. Instead, the body will be directed to review emissions trading schemes (ETS) in other countries. Under an ETS, a fixed number of permits to emit pollutants can be traded between firms.
Mr Palmer's party is pushing for such a scheme to be implemented in Australia only if the country's trading partners have one too. Mr Palmer said on Wednesday that he has "kept alive" that prospect.
The government also agreed to put in place an unspecified "safeguard mechanism" by Mr Xenophon to ensure companies comply with requirements.
The original carbon tax scheme was introduced by the former Labor government, which also supports an emissions trading scheme.
Labor leader Bill Shorten criticised Wednesday's deal, saying Mr Abbott had "sold his soul to Clive Palmer, and Australia will pay the price".
'Incomplete and ineffective'
Greens leader Christine Milne meanwhile said the emissions reductions fund (ERF) will "pay polluters to pollute" .
Australia aims to cut emissions to 5% below their level in 2000 within six years.
The deal was welcomed by the Australian Chamber of Commerce and Industry, who described the ERF as "the best short term option to reduce emissions".
"We don't want to rush into an emissions trading scheme and impose unnecessary costs on Australian businesses," the group said.
However, environmental organisations criticised the deal.
"The Government's so-called direct action plan sets no cap on pollution and places no obligation on polluters," the Australian Conservation Foundation said, describing the deal as "weak, incomplete and ineffective".
Climate Institute deputy chief executive Erwin Jackson told the Australian Associated Press: "No independent modelling has shown that the government's policy can achieve our [emissions reduction] targets."