Australia conman fugitive Peter Foster convicted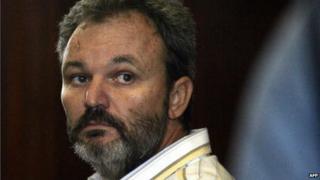 An Australian conman has been convicted of assaulting police and resisting arrest when he was caught after a year on the run.
Peter Foster, 52, had been evading authorities since he was convicted of flouting a court order preventing him from selling weight-loss products.
He was caught on Tuesday near Byron Bay in New South Wales.
In 2002 Foster was involved in a flat-buying scandal with former British PM Tony Blair's wife Cherie.
Foster fled into the bush as Channel 9 television crew and policemen approached him on Tuesday. He was caught while hiding in scrub.
Television footage showed him struggling with officers as he was handcuffed. Foster looked significantly different with long grey hair and a thick white beard.
A local court convicted him on Wednesday, but did not impose a sentence. Foster was instead sent to Queensland to serve a sentence for his previous conviction.
"Cherie-gate"
Foster, known for numerous scams, was banned from selling weight-loss products in 2005.
He was later found guilty of selling an oral spray called SensaSlim, and was sentenced to three years in jail. He is now due to serve 18 months only, reported the Australian Broadcasting Corporation.
He was charged with immigration fraud in Fiji in 2006, and later fled the country. He has also been jailed in Australia for money laundering.
Foster is best known in the UK for buying two reduced-price flats in Bristol in 2002 on behalf of Cherie Blair, in a scandal dubbed "Cherie-gate".
Foster got to know Mrs Blair through his girlfriend then, Carole Caplin, who was Mrs Blair's fitness trainer.
Although the deal was not illegal, Mrs Blair apologised after trying to cover up the extent of her dealings with Mr Foster.