Profile: Mohammad Ali Baryalei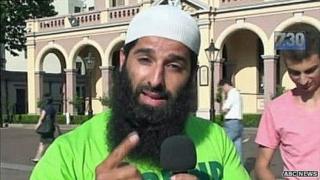 Mohammad Ali Baryalei has been described as the most senior Australian member of the militant group Islamic State, (IS) and is reported to have helped recruit Australian fighters to its cause.
He is also accused of masterminding a plot to carry out a "demonstration killing" in Sydney in which a victim selected at random was to have been beheaded.
It was after police reportedly intercepted a phone call from him ordering the attack that Australian security services carried out their biggest ever counter-terrorism raids, in Sydney and Brisbane, in September.
Then on 29 October the Australian government said it was investigating reports that he had been killed while fighting in the Middle East.
Failed actor
Mohammad Ali Baryalei arrived in Australia at the age of seven as a refugee.
His family had fled Afghanistan and spent several years in India and Pakistan before arriving at the Villawood detention centre in Sydney's west.
A report by the Australian Broadcasting Corporation (ABC) painted him as a troubled youth who fought with his violent father.
After a tumultuous childhood - marred by bouts of depression - he was thrown out of home at the age of 18.
It was then that he found work as a bouncer at a Sydney strip club.
Former friends who spoke to the ABC detailed his drug use and violent nature. "He drank a lot, was a big smoker, he liked drugs, loved women and could be violent," one said.
Mohammad Ali Baryalei was also an aspiring actor, although he found little success, only securing roles as an extra.
Australian media say it was during a bout of serious depression that he became obsessed with religion.
Family members who spoke to the ABC said he began regularly attending a mosque.
He became interested in the teachings of Islamic preachers, grew his beard and expressed his distain for Western culture.
It was then that the 33-year-old became the face of the local branch of the Street Dawah preaching movement.
Through this work he developed a following of young men whom he was reportedly recruiting to fight in Syria.
It is believed he travelled to the Middle East in April 2013 to set up a base on the Turkey-Syria border.
Authorities say he first joined the al-Qaeda-linked Jabhat al-Nusra before switching allegiance to the group that would become Islamic State. Once with IS, he is said to have gained a trusted position within the group.