NZ quake brown gunk protester pleads guilty to assault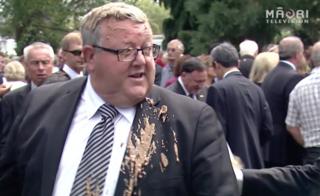 The man who threw a sticky brown substance over New Zealand's earthquake recovery minister on Monday has pleaded guilty to assault.
Minister Gerry Brownlee was targeted at the end of a memorial service to mark the 2011 quake in Christchurch.
John Howland said he threw the mix of chocolate, vinegar and other substances at Mr Brownlee for not taking better care of victims' families.
His 14-year-old son Jayden Andrews-Howland was among the victims.
He was travelling home on the bus when a building fell on the vehicle, according to New Zealand's Stuff news agency.
Mr Howland faces up to a year in jail and will be sentenced on 15 March.
John Howland went to the service and sat a short distance away from Mr Brownlee, the police summary of facts said according to Stuff.
As Mr Brownlee was leaving, Mr Howland tipped an ice cream container filled with a brown substance over him.
Talking to Newstalk ZB after the incident, Mr Brownlee had said the attacker had said to him "this is for you".
Mr Brownlee was also heckled earlier on Monday during a live TV interview, by a man saying "Gerry Brownlee you suck, you've done a bad job".
Mr Brownlee has come under criticism for what some see as the slow pace of recovery.
It is not the first time someone has thrown something at a New Zealand minister this month.
On 6 February, a woman threw a large, pink rubber penis at Economic Development Minister Steven Joyce while he was attending a Waitangi Day event, in protest against the Trans Pacific Partnership (TPP) free-trade deal.
The magnitude 6.3 earthquake caused widespread damage to Christchurch on 22 February 2011 because it occurred at the shallow depth of 5km (3.1 miles). A total of 185 people died.