Thai academic accused of insulting long-dead king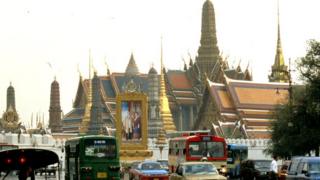 A prominent Thai academic has been accused of insulting the monarchy, for remarks about a king who died more than 400 years ago.
Two retired army officers have complained about the scholar, Sulak Sivaraksa, for comments he made about King Naresuan the Great.
If convicted, Sulak could be imprisoned for 15 years.
Thailand's strict lese-majeste law has over recent years been interpreted to cover even dead kings.
National hero
Sulak Srivaraksa, 82, is, by his own account, an ardent royalist. He said his criticisms of Thailand's monarchy are intended to help it survive in the modern age.
But this is the fifth complaint against him for insulting the monarchy.
This latest one stems from comments he made about an episode in which King Naresuan - a Thai national hero who died in 1605 - defeated his Burmese rival while riding an elephant.
The remarks came at an academic seminar held at Bangkok's Thammasat University.
If charged, he will join at least 16 other people who have been prosecuted under the law since the military takeover in May.
The coup leader, General Prayuth Chan-ocha, has promised to use every means at his disposal to stamp out anti-monarchy views.
Other charges have been made against a man who scribbled graffiti in a public toilet, a taxi driver whose comments were recorded by a passenger on a smartphone and two students who put on a play at their university last year commemorating an attack on leftists in the 1970s.
Trials are now being held in military courts.
The BBC's Jonathan Head in Bangkok said this frenzy of royalist prosecutions is driven by acute anxiety over the looming royal succession, given the frail health of King Bhumibol Adulyadej, who is 86.
But it is also driven by fears of growing anti-monarchy sentiment among supporters of the last civilian government, which was deposed by the coup.