Malaysia Airlines scraps 'bucket list' quiz title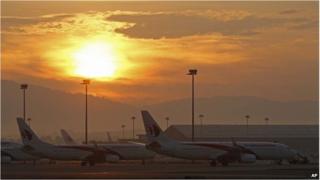 Malaysia Airlines has bowed to public protests by scrapping a promotional quiz title asking customers to name their top "bucket list" destinations.
The "My Ultimate Bucket List Campaign" title was deemed "inappropriate" following the airline's two major disasters this year.
The contest has since been reinstated, but will now run title-free to "focus on the prizes," the airline said.
A bucket list is a list of experiences people wish to have before they die.
It derives from the phrase "kick the bucket", a slang expression for dying.
The airline had a good safety record before this year's two disasters.
In its latest apology, the airline says it "respects the sentiments of the public, and in no way intended to offend any parties".
The company's brand has been under pressure since Malaysia Airlines flight MH370 disappeared in March with all 239 people on board, followed by the shooting down of Flight MH17 over Ukraine four months later.
The preliminary report into the MH17 crash, in which all 298 people on board were killed, is expected to be published in the Netherlands next week.