Australian zookeeper survives crocodile attack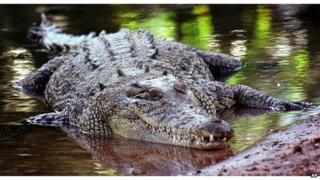 A zookeeper has been attacked by a crocodile during a feeding show at a zoo in the Australian state of New South Wales.
Trent Burton, 31, managed to break free after the 3.7m (12ft) male reptile grabbed him in its teeth and dragged him into the water.
Mr Burton was being treated for minor puncture injuries to both hands.
The crocodile, called John, and his breeding partner, Dawn, have been at Shoalhaven zoo for more than 10 years.
The zoo is around 100 miles (160km) south of Sydney off the coast of New South Wales.
Narrow escape
One elderly onlooker, Michelle Orr, described the attack as the scariest thing she had ever seen.
"We've seen the trainer taken by the crocodile," she said.
"I've seen him in the wild, lying on river banks... but never like this."
Another eyewitness, Michelle Brady, from nearby Albion Park, said the keeper had a narrow escape.
"He was feeding him meat, and the crocodile took it before the designated [feeding] area," she told the local Smith Coast Register newspaper.
"So the trainer went to grab it out of the crocodile's mouth, and the crocodile just grabbed the trainer's hand and pulled him to the ground and dragged him into the water.
"Then the trainer got free [and] jumped out of the water."
Shoalhaven zoo owner Nick Schilko said Mr Burton had been handling the saltwater crocodiles for more than a decade.
"Of course we are disappointed the attack happened, but thankfully it doesn't appear to be too serious," he said.
The zoo said it would look at what happened and review its safety procedures.