Australian Labor opposition elects Bill Shorten as leader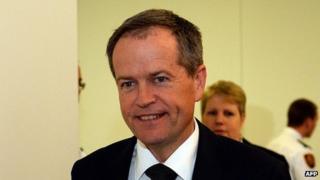 The Australian Labor Party has elected a new leader, a month after it was soundly beaten in general elections.
Bill Shorten, 46, a former education minister, said he faced a "hard task".
It was the first Labor leadership contest to be decided by all party members, not just the ALP's senators and members of parliament.
Correspondents say Mr Shorten will have to present a more united front if Labor is to retake power from new prime minister, Tony Abbott.
Mr Shorten, a former head of the powerful Australian Workers' Union, said he was under no illusions about the difficulty of his new role.
Pride
"Rebuilding the Labour Party is a hard task," he said, adding that he was "genuinely humbled at the significant honour and privilege that people in the Labor Party displayed by choosing me to be their leader".
"No-one in my family's ever been in politics or public life before and I recognise that to be elected leader of the federal parliamentary Labor Party, Australia's oldest political party, is a great honour."
Mr Shorten's election followed a month-long vote by the ALP's 40,000-strong membership, which was combined with the results of a poll of party lawmakers.
He received strong support from Labor politicians but the other leadership candidate, Anthony Albanese, was more popular among the party's members.
Mr Shorten won 64% of the parliamentary vote - securing 55 of the 86 votes. Mr Albanese, a former deputy prime minister, won 60% of the party membership vote.
Infighting
Both ballots were weighted equally, leaving Mr Shorten with an overall total of 52%.
Chris Bowen, who acted as interim Labor leader following the defeat of Kevin Rudd in September's election, said he believed Mr Shorten would lead the ALP into power.
"The entire Labor Party has elected an alternative prime minister and I believe the next Labor prime minister of Australia," he said.
Labor held power for six years, during which time Kevin Rudd served as prime minister for three years before he was replaced by Julia Gillard, Australia's first female prime minister.
Mr Rudd eventually ousted her as party leader and prime minister just weeks before the election.
While in government Labor was badly damaged by the infighting between Kevin Rudd and Julia Gillard, and will have to be more united if it wants to regain power, says the BBC's correspondent in Sydney, Jon Donnison.