Fears for Australia boy missing after crocodile attack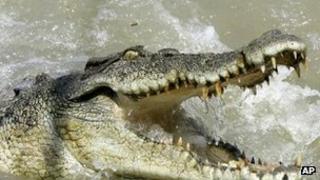 Police in northern Australia are searching for a 12-year-old boy feared killed by a crocodile, the second potential fatality in two weeks.
The boy was swimming with a group of people at Port Bradshaw in East Arnhem Land, police said.
Other members of the group tried to spear the animal but it reportedly dragged the boy to deeper waters.
A girl aged seven disappeared two weeks ago and human remains were later found in a crocodile's stomach.
That attack took place at the Gumarrirnbang outstation, about 500km (300 miles) east of Darwin, the capital of Northern Territory.
'Tragic circumstance'
Saturday's attack was at Port Bradshaw, 80km south of the town of Nhulunbuy.
Police Superintendent Michael White said in a statement: "Initial reports suggest adults within the group tried to save the boy by spearing the animal, but the crocodile dragged the child out to deeper water.
"Officers from Nhulunbuy police station are currently at the scene of the attack and searching for the boy and the crocodile."
Supt White added: "This is a tragic circumstance for the child's family and friends, and highlights the dangers of swimming in waterways in the Top End."
A day after the attack two weeks ago, police rangers shot dead a three-metre-long reptile in the same waterhole - or billabong - where the girl went missing.
Tests suggest its stomach contained human remains.
Fatal attacks in Australia by saltwater crocodiles - a protected species - remain rare.