Jordanian prime minister resigns after just six months in the job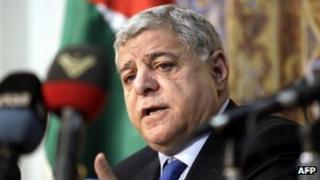 Jordan's prime minister Awn Khasawneh has resigned, six months after forming a government which he promised would bring reform to the country.
The reasons for his resignation have not been revealed, but he is thought to be unhappy that the king had extended the current parliamentary session.
King Abdullah II has asked Fayez Tarawneh to form a new government.
Mr Tarawneh, who is 63, was prime minister and head of the royal court under Abdullah's father, King Hussein.
Calls for reform
When Mr Khasawneh was appointed in October 2011 he promised to fight corruption, and introduce political and economic reforms.
But he angered many reformists and opposition parties by proposing a new electoral law which would have scrapped the country's one-person-one-vote system.
It would have also limited the number of seats allocated to political parties, while at the same time introducing a quota for the minimum number of women MPs.
Jordan has not been immune to the sorts of demonstrations seen in other Arab countries, with relatively small but vocal protests becoming a regular feature of the country's political scene.
But despite the pressure for anti-corruption measures and economic reform, there has been little measurable change.
While unemployment is officially running at 14%, some NGOs estimate the real figure might be closer to 30%.