Chinese media mock India's 'dwarf' missile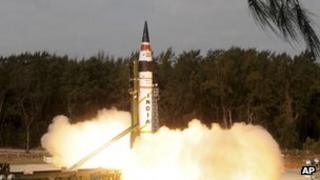 While the Indian media are being swept along by the euphoria of the successful test launch of Delhi's first long-range ballistic missile - which can reach deep within China - Chinese papers have dismissed outright its impact on India's military might vis-a-vis China.
The press termed the test a "missile delusion" and a mere "show of strength".
While the Indian media dubbed it a "China-killer", state-run Chinese newspapers mocked the latest Indian missile, the Agni-V, calling it a "dwarf" compared to China's own missiles.
Both Chinese- and English-language newspapers rejected the view that this missile would tilt the strategic balance in the region towards India, something that the Indian media have been celebrating for the past two days.
Chinese official reaction has been more restrained, with Foreign Ministry spokesperson Lui Weimin calling India a "partner and not a rival".
In its editorial on Thursday - the day of the launch - the state-run English-language newspaper Global Times dismissed India "standing a chance" in a confrontation with China.
"India should not overestimate its strength… For the foreseeable future, India would stand no chance in an overall arms race with China," the editorial said.
'No breakthrough'
On 20 April, an editorial in the state-run newspaper Huanqiu Shibao said India's strategic strike force was in "early childhood".
It further mocked the missile programme by saying that the Agni-V showed "the backwardness of Indian missiles" and was "merely one of the concrete displays of its social and economic development as a whole lagging behind China".
In a similar vein, commentator Wu Xuelan wrote in the Communist Party newspaper Renmin Wang that India has always "cherished the dream of becoming a major power" but its social problems "are still very serious".
Instead of wasting money on developing missiles, India "should do a better job in terms of [improving] the lives of ordinary people", the newspaper said.
In an interview with the English-language China Daily, a senior researcher from the Academy of Military Science, Yao Yunzhu, said that the new missile is not a "significant breakthrough for India".
Mr Yao said it was just "an improvement on the range" that in no way will change the "current military strength contrast between the two countries".
Even commentators and analysts on CCTV's Global Watch programme on 19 April dismissed the strategic impact of the new missile launch.
Song Xiaojun, the editor of the Chinese Military Magazine, played down India's military strength.
"Without an adequate tank corps and a heavy-duty land force with adequate heavy weapons, it can hardly become a so-called 'China killer' by relying solely on nuclear weapons," he said.
Similar views were echoed by Gao Zugui of the Institute of International Strategic Studies, who said: "Despite giving a little support, it was right in saying that if it really wants to become a great nation, each of its families should have a toilet first."
Hong Kong's English-language newspaper, the South China Morning Post, on 20 April quipped that "India insists the missile - dubbed the 'China killer' in some of the country's more colourful media - is only for deterrent purposes".
But: "Amid a powder keg of security concerns and competition for energy resources as China's rise transforms the political landscape, it poses a potential threat to regional stability and harmony."
BBC Monitoring selects and translates news from radio, television, press, news agencies and the internet from 150 countries in more than 70 languages. It is based in Caversham, UK, and has several bureaux abroad.