Did economic sanctions play a role in Burma's reform?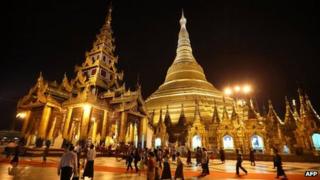 Burma has had a year of dramatic change, with hundreds of political prisoners released and pro-democracy leader Aung San Suu Kyi elected to parliament.
As a reward for those reforms and to encourage more of the same, foreign ministers from the European Union are set to suspend economic sanctions against the South East Asian nation.
But what role, if any, did economic restrictions play in steering the military government onto the path of reform?
Last year, in spite of the sanctions, the Burmese economy grew 5.5%, an increase on the previous year.
To a large extent, that was thanks to sustained investment from neighbours China and Thailand, coupled with a leap in tourist numbers.
The current sanctions regimen against Burma was assembled incrementally over two decades, as the world reacted to the continued house arrest of Aung San Suu Kyi and several brutal crackdowns on protesters.
Europe's own restrictions are not the most stringent. While the US introduced a comprehensive package of trade and financial sanctions, the EU always stopped short of a ban on all business with Burma.
Instead, targeted sanctions imposed visa restrictions and froze the assets of leading members of the Burmese government and military.
Investment was also prohibited in companies with known links to those individuals. Listed in a long EU directive, they range from soap and juice factories to luxury golf courses.
'Pathetic' measures
But when big money was at stake, high principle was put to one side.
Since 1992, the French energy giant Total has, in partnership with Chevron, invested billions of dollars in gas fields and pipelines 60km (37.3 miles) off the Burmese coast.
Activists say much of the revenue raised has gone directly into the pockets of the military.
In 2007, in the wake of worldwide outrage at the brutal ending of the 2007 protests dubbed the "saffron revolution", EU sanctions on the Burmese authorities were expanded.
Once again, energy was conveniently excluded, even as trade and investment restrictions were imposed on the timber, gem and precious metals sectors.
"Pathetic" is how Mark Farmaner, the director of Burma Campaign UK , describes the European measures.
He would like to have seen restrictions also put in place on financial services such as insurance, which would have hampered Asian companies wanting to invest.
Despite that, he still believes the sanctions have had an impact, and has argued against their hasty removal.
"It's clear because government officials are constantly complaining about sanctions that they are causing them pain," he said.
"They've got economic problems and they realise they are being left behind and the rest of Asia is moving ahead without them."
Diplomatic stalemate
Not everyone is so convinced that sanctions have played a significant role in pushing reform.
Jim Della-Giacomo, the South East Asia project director for the International Crisis Group thinks they in fact helped create a diplomatic stalemate.
"The sanctions were counter-productive and reinforced suspicions against the West," he says. "It gave them a justification for maintaining power and perversely, it helped to maintain military rule."
He sees the changes as being more organic, with the retirement of former President Than Shwe and the change of political leadership creating momentum for reform.
Mr Della-Giacomo said that sanctions have mostly affected Burma's poor, who have been denied access to medicine and development projects.
"The generals have learnt to survive within the sanctions," he said. "The poor can't get on a plane and fly to Singapore to do their shopping."
Whatever the decision in Brussels, and subsequent ones in Washington and elsewhere, the greatest obstacles to investment in Burma are likely to remain inside its borders.
A recent report by risk analysis group Maplecroft concluded that the country had rich potential , but that it was being held back by corruption, a weak legal system and a lack of protection for investors.
Some steps, such as the managed floating of the currency, have now been taken. But if sanctions are suspended for a year, European investment is certain to remain just a small fraction of the billions of dollars pouring in from China.