China state media curt on Bo sacking, social media divided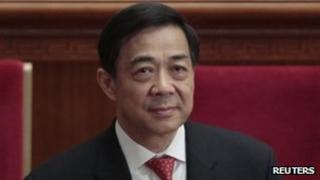 China's state and social media have reacted swiftly to the sacking of Bo Xilai, a prominent leader who had been tipped to win a top post after a major leadership change expected later this year.
The news however came too late for early newspaper editions, which focused largely on Premier Wen Jiabao's news conference following a parliamentary annual session held yesterday morning.
There has been intense speculation about Bo Xilai's position since February when his former chief of police spent a few hours at a US consulate in Sichuan Province, provoking rumours that he was seeking asylum. He is also thought to have upset some in the leadership with a high profile campaign against corruption and a revival of Maoist ideology.
Cautious on sacking
Beijing'sChina Central Television (CCTV-1)channel reported the news as the fifth item in its lunchtime bulletin. "Appointment of comrade in charge of Chongqing municipal committee adjusted" said the announcer of the channel's news programme.
Although the programme led with domestic news such as the latest consumer price index, the Bo Xilai news came before top international news.
The wording of a brief report carried by state-run news agencyXinhuawas also restrained. The report did not elaborate beyond saying that Bo would be replaced by Vice-Premier Zhang Dejiang.
The Hong Kong-based news agencyZhongguo Tongxun She (ZTS)cited in its special article a commentary by Ye Duchu, Professor at the Party School of the CPC Central Committee, who said that Bo Xilai's removal reflects the CPC Central Committee's emphasis on holding local leaders responsible.
Social media divided
But the news of Bo Xilai prompted an outpouring on Chinese social media sites.
According to a report in the Taipei-basedWant China Times(English-version), there was an "immediate frenzied online discussion", attracting about 190,000 posts on the country's main microblogging platformsTencent WeiboandSina Weibo"within four hours" of the announcement.
According the paper, the number shows that China's internet users are becoming increasingly emboldened to discuss politics online, despite new rules requiring users to register their real identities.
Most users of Tencent Weibo were supportive of Mr Bo, according to the paper.
"Bo is a good official busting gangs and crime but displeased too many villains like [former premier] Zhu Rongji," a user, identifying himself as Zhang Haotian, said.
But there were also critical posts on the Sina Weibo microblogging site. Xu Pu argues that Bo Xilai was trying to take Chongqing back to the era of Cultural Revolution "when people could be charged with a crime without any evidence".
"His crackdown on organised crimes has come at the expense of the rule of law. His terror has frightened everyone," his post said.
On Sina Weibo there was also speculation on the part of TV host Hu Ziwei who wrote: "We must re-evaluate the speech made by Premier Wen yesterday ... Wang Lijun [the controversial police chief] must have revealed some secrets, otherwise this decision would not have been made so quickly."
A user on the BBC Chinese forum, who was writing from Dalian, said: "Anybody who is against corruption goes quickly. Actually Bo is a very westernised leader."
Opinion is mixed and Mr Bo certainly aroused a variety of emotions, but some users reserved their praise or condemnation for the secretive workings of China's political system.
Fan Zhongxin, a professor at the Hangzhou Normal University wrote: "Bo Xilai has been sacked, and his back-pedalling has been stopped! Hope has re-emerged in China, and political reform is likely!"
On the other hand there was cynicism about the murky handling of the case.
Wang Cailiang, a lawyer, described the affair as a"child's play". "The reshuffle of official posts are decided by factions, and has nothing to do with the rule of law, democracy or people's livelihoods."
Prof Xie Youping at Fudan University said the case reflected the secrecy of Chinese politics. "Chinese politics is in grave need for democracy and openness," he wrote on Weibo.
New era of "openness'"
The news of sacking came too late for early newspapers editions, which focused overwhelmingly on Premier Wen Jiabao's news conference following an annual parliament session during which he called for urgent economic and political reforms in a bid to avoid another "cultural revolution".
The only reference to Bo came in an editorial in Beijing'sHuanqiu Shibao(Global Times), which praised his "frank" approach and willingness to speak openly - a move seen as highly unusual in Chinese politics - about the controversy surrounding a recent visit by his former police chief, Wang Lijun, to the US consulate.
This, and Premier Wen's move to address some "personal issues" in his speech, heralded in a new era of openness and showed the leadership's willingness to "interact with society", the paper suggested.
Later in the morning, the paper's English language version cited a Xinhua report on the replacement.
The daily reminded the readers that Premier Wen Jiabao told the news conference yesterday that the authorities in Chongqing "must reflect on and draw lessons from the Wang Lijun incident."
BBC Monitoringselects and translates news from radio, television, press, news agencies and the internet from 150 countries in more than 70 languages. It is based in Caversham, UK, and has several bureaux abroad.