Cautious welcome for North Korea nuclear freeze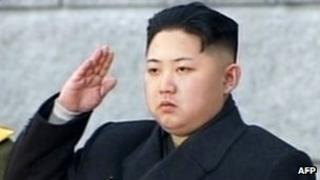 North Korea's pledge to suspend uranium enrichment, as well as nuclear and long-range missile tests, has received a cautious international welcome.
A White House spokesman called it a "positive first step" towards denuclearising the Korean peninsula.
China and Russia also welcomed the move, while Japan said it could "be seen as progress".
The deal followed talks between US and North Korean diplomats in Beijing last week.
The US has announced 240,000 tonnes of new food aid for Pyongyang in return for the freeze.
North Korea confirmed the suspension in a foreign ministry statement released in Pyongyang on Wednesday.
It said the move "aimed at building confidence for the improvement of relations" between the two countries, and said talks would continue.
The US State Department said Pyongyang had also agreed to allow UN inspectors to monitor its reactor in Yongbyon to verify compliance with the measures.
"These are concrete measures that we consider a positive first step toward complete and verifiable denuclearisation of the Korean peninsula in a peaceful manner," White House spokesman Jay Carney said.
"But obviously they need to be followed up by actions. So, we will pursue this policy area with that approach in mind," he added.
China welcomed "the improvement" in US-North Korea ties. "China is willing to work with relevant parties to continue to push forward the six-party talks process," Chinese foreign ministry spokesman Hong Lei said in a statement.
Russia's foreign ministry said: "This is a positive example of how various sides taking joint action which is subordinate to a common goal makes it possible to inch our way to mutually acceptable solutions in very difficult situations."
Japanese Foreign Minister Koichiro Gemba said the deal was an important step but warned "concrete action" was needed.
"Our goal remains unchanged: that all nuclear-related facilities will be stopped - that is the complete and verifiable denuclearisation of the Korean peninsula," he said.
South Korea said the deal reflected close co-operation between Washington and Seoul.
The food aid will be intended for children and pregnant women, US officials said. North Korea has suffered persistent food shortages since a famine in the 1990s, and relies on foreign aid to feed its people.
The US has not sent food aid to North Korea since 2009.
Tough negotiations
The announcement comes two months after Kim Jong-un came to power following the death of his father, Kim Jong-il.
Correspondents say it could pave the way for the resumption of six-party disarmament negotiations with Pyongyang, which broke down in 2009.
North Korea agreed in 2005 to give up its nuclear ambitions in return for aid and political concessions, as part of a six-nation dialogue process involving the two Koreas, the US, China, Russia and Japan.
But progress on the deal was stop-start, and talks became deadlocked in 2009.
Contact between the US and North Korea aimed at restarting the talks began in July 2011.
Last week's meeting between US and North Korean officials in Beijing was the third round of talks aimed at exploring how to bring North Korea back to the negotiating table.
Getting back to those nuclear talks will depend on implementing the deal - and that means hammering out some tricky details, says the BBC's Lucy Williamson in Seoul.
US officials have said they expect "tough negotiations" with the North on the exact order in which the two countries' commitments are carried out.
Analysts also remain concerned over the possible existence of uranium enrichment facilities other than Yongbyon that have not yet been disclosed.