Vietnam profile - Leaders
President: Truong Tan Sang
Truong Tan Sang was elected to the largely ceremonial post of president in July 2011 with 97% of the vote in parliament.
He is a former mayor and party chief in Ho Chi Minh City. Before becoming president he served as the de facto Number 2 in charge of the Communist Party, running its day-to-day affairs.
Born in 1949, he was imprisoned from 1971-73 by the US-backed South Vietnamese government when he served as a communist fighter for the north during the Vietnam War. It ended in 1975 when the north seized control of the former southern capital, Saigon, reunifying the country.
The prime minister runs the country's day-to-day operations. The National Assembly, or parliament, was viewed in the past as a rubber stamp that blindly passes the government's policies. In recent years, however, it has started to assert itself more.
Secretary-general of the Communist Party: Nguyen Phu Trong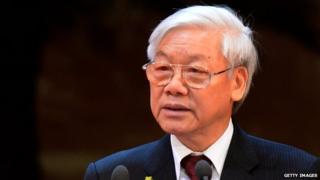 The Communist Party holds the real power in Vietnam. It appointed Nguyen Phu Trong as its secretary-general in January 2011, and re-elected him in January 2016 in a sign of conservative caution over the pace of political liberalisation.
He took over as Vietnam faced mounting economic problems, including rising inflation, a growing trade deficit and a weakening currency.
For the previous five years Nguyen Phu Trong had been head of the National Assembly, using the post to raise the profile of the parliament, traditionally a rubber-stamp body. Born in 1944, he also previously served the Communist Party's chief political theorist.
Nguyen Phu Trong is a conservative who favours closer ties with China. Analyst say he was promoted as a compromise candidate and was expected to play the role of consensus-builder rather than drive policy.
His predecessor, Nong Duc Manh, was seen as a moderniser, and sought to speed up economic reforms and to tackle bureaucracy and deep-rooted corruption.
The Communist Party leadership recommends candidates for the posts of president and prime minister.
Prime minister: Nguyen Tan Dung
Nguyen Tan Dung was elected to the post by parliament in 2006 and re-elected in July 2011, at the recommendation of the Communist Party.
The former Viet Cong Communist guerrilla and central bank governor began as a relative reformer, but Vietnam has struggled with economic woes during his tenure.
He came under public pressure to resign after several top shipbuilding group Vinashin officials were jailed for their roles in a financial scandal, but escaped disciplinary action. Liberal critics deplore his support for state firms, saying it saps precious capital needed elsewhere.
Under Nguyen Tan Dung's leadership, Vietnam has taken an increasingly tough stance against political dissidents, including those peacefully expressing their views online. His bid to replace Nguyen Phu Trong as Communist leader in 2016 foundered amid lack of support from party delegates.