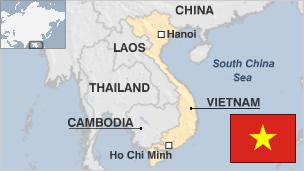 Vietnam, a one-party Communist state, has one of south-east Asia's fastest-growing economies and has set its sights on becoming a developed nation by 2020.
It became a unified country once more in 1975 when the armed forces of the Communist north seized the south.
This followed three decades of bitter wars, in which the Communists fought first against the colonial power France, then against South Vietnam and its US backers. In its latter stages, the conflict held the attention of the world.
The US joined the hostilities in order to stem the "domino effect" of successive countries falling to Communism.
Socialist Republic of Vietnam
Capital: Hanoi
Population 92 million

Area 329,247 sq km (127,123 sq miles)

Major language Vietnamese

Major religion Buddhism

Life expectancy 73 years (men), 81 years (women)

Currency dong
Getty Images
President: Nguyen Xuan Phuc
Nguyen Xuan Phuc was appointed to the largely ceremonial post of president by parliament in April 2021, taking over from Nguyen Phu Trong.
He had served as prime minister since April 2016, where his technocratic style was reflected in Vietnam's efficient handling of the Covid-19 pandemic.
Real power resides in the post of general-secretary of the Communist Party, which has been held by outgoing president Nguyen Phu Trọng since 2011.
The Communist Party has a strong grip on the media.
Media outlets and journalists risk sanctions for broaching sensitive topics and for criticising the government.
Online content deemed to threaten Communist rule is blocked.
1859-83 - France slowly colonises Indochina.
1940 - Japan takes control of Indochina.
1945 - Ho Chi Minh proclaims independence and establishes the Democratic Republic of Vietnam.
1946 - French seek to regain control. Anti-French resistance war - or the First Indochina War - spreads across country.
1954 - Vietnam is partitioned between North and South. Conflict between the two rival states rages for the next two decades, in what is known as the Vietnam War or the Second Indochina War. The US is heavily involved in support of the South.
1975 - Southern cities fall one by one until communist forces seize Saigon.
1976 - Vietnam is reunified as the Socialist Republic of Vietnam. Hundreds of thousands flee abroad, including many "boat people".
1979 - Vietnam invades Cambodia and ousts the Khmer Rouge regime of Pol Pot.
Related Internet Links
The BBC is not responsible for the content of external sites.