Hong Kong territory profile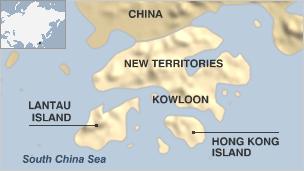 The former British colony became a special administrative region of China in 1997, when Britain's 99-year lease of the New Territories, north of Hong Kong island, expired.
Hong Kong is governed under the principle of "one country, two systems", under which China has agreed to give the region a high degree of autonomy and to preserve its economic and social systems for 50 years from the date of the handover.
But Beijing can veto changes to the political system, and pro-democracy forces have been frustrated by what they see as the slow pace of political reform.
Hong Kong
Semi-autonomous, special administrative region of China
Population 7.2 million

Area 1,098 sq km (424 sq miles)

Major languages Chinese (mainly Cantonese), English (both official)

Major religions Buddhism, Taoism

Life expectancy 81 (men), 87 (women)

Currency Hong Kong dollar
Getty Images
Chief executive: Carrie Lam
Carrie Lam was sworn in as Hong Kong's first female chief executive on 1 July 2017 on the 20th anniversary of Hong Kong's handover from Britain to China.
Widely seen as Beijing's preferred candidate, Lam secured 777 votes from the 1,194-member Election Committee which picks the city's next chief and is believed to be dominated by Beijing loyalists. This was Hong Kong's first leadership election since the 2014 pro-democracy protests.
Lam served as the city's secretary for development before being appointed the chief secretary for administration in 2012, Hong Kong's number two official.
She is said to have been student activist and has been described as the "Iron Lady" and "the fighter".
Hong Kong has a major film industry and is a centre for broadcasting and publishing.
Although the city's Basic Law enshrines media freedom, independent and pro-democracy media have come under political and economic pressure.
Local news websites are an important source of independent information.
Some key dates in Hong Kong's history:
1842 - China cedes Hong Kong island to Britain after the First Opium War.
1898 - China leases the New Territories together with 235 islands to Britain for 99 years.
1941-45 - Japan occupies Hong Kong during Second World War.
1970s - Hong Kong is established as an "Asian Tiger" - one of the region's economic powerhouses - with a thriving economy based on high-technology industries.
1997 - Hong Kong is handed back to the Chinese authorities after more than 150 years of British control.
2014 - Pro-democracy demonstrators occupy the city centre for weeks in protest at the Chinese government's decision to limit voters' choices in the 2017 Hong Kong leadership election. More than 100,000 people took to the streets at the height of the Occupy Central protests.
Related Internet Links
The BBC is not responsible for the content of external sites.