Japan tuna sale smashes record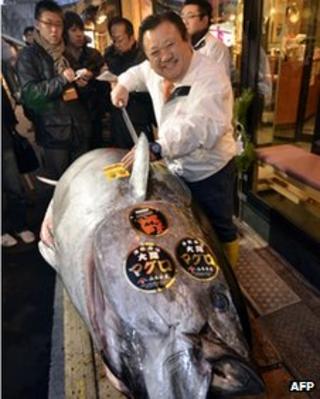 A bluefin tuna has been sold for three quarters of a million dollars in Tokyo - a price almost double last year's record sale.
The bluefin tuna, prized for making the finest sushi, fetched 56.49m yen ($736,000, £472,125) at Tsukiji fish market's first auction of the year.
The winning bidder was Kiyoshi Kimura, owner of a sushi restaurant chain.
Globally, there is great concern over the species and fishing quotas.
The 269kg (593lb) tuna also set a record for price by weight, market official Yutaka Hasegawa said. The total price translates to 210,000 yen ($2,737, £1,755) per kilogram.
The tuna was caught off Oma, in Aomori prefecture, north of the coast that was struck by the devastating tsunami last year.
Mr Kimura's bid, he told reporters, was an effort to ''liven up Japan'' and help it on the road to recovery.
He also wanted to keep the fish in Japan "rather than let it get taken overseas", he said on television.
Last year, a 342kg bluefin tuna caught off Japan's northern island of Hokkaido fetched 32.49m yen, or nearly $400,000 (£257,320), setting a record then.
The winning bid was a joint effort by a Hong Kong-based sushi chain and an upscale Japanese restaurant in Tokyo.
The first auction in January at the famous fish market in Tokyo is an important part of Japan's New Year celebrations, and record prices are often set.
Japan is the world's biggest consumer of seafood, eating about 80% of the Atlantic and Pacific bluefins caught.
However, restrictions on catches have been tightened in recent years because of concerns about overfishing.