Tonga profile - Leaders
Head of state: King George Tupou VI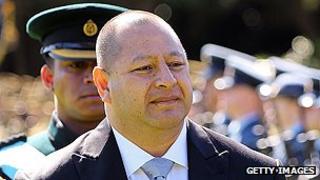 George Tupou VI succeeded to the throne on the death of his elder brother, the bachelor George Tupou V, in March 2012.
The new King was Tonga's High Commissioner (ambassador) to Australia from 2008, having served as prime minister in 2000-2006. He quit as prime minister in the face of violent pro-democracy protests in February 2006, and was succeeded by Tonga's first non-royal and non-aristocratic head of government, Feleti Sevele.
The late King George Tupou V ushered in parliamentary democracy in 2010, ending centuries of feudal dominance of government.
Prime minister: 'Akalisi Pohiva
Veteran leading pro-democracy campaigner 'Akalisi Pohiva became the country's first non-noble prime minister in January 2015.
Having spent nearly three decades in opposition, he was elected in the wake of parliamentary elections two months earlier.
Half of all incumbent MPs lost their seats in the vote, amid concern about sluggish economic growth and high unemployment.
Although his Democratic Party did not gain an absolute majority, it won over enough independent MPs to form a government.
Mr Pohiva campaigned on promises to cut wasteful government spending and corruption, as well as the cost of electricity and water for ordinary Tongans.
Born in 1941, he became involved in the fledgling campaign to replace rule by the monarchy and nobles with democracy in the 1970s. He was elected to parliament in 1987.
Mr Pohiva came close to be elected prime minister in the 2010 election when his party won 12 out of 17 directly elected seats in the 26-member parliament
But independent MPs then backed Lord Tu'ivakano, a noble, to became the country's first prime minister to be elected by parliament rather than appointed by the king.
Before the introduction of the directly elected seats, the tiny Pacific kingdom was run by a parliament dominated by a clique of nobles selected by the king, who also chose the prime minister and cabinet.
The swing towards democracy followed riots in the capital Nuku'alofa in 2006, which claimed eight lives and destroyed much of the business centre as people protested against the slow pace of political reform.
In April 2015, a fire destroyed Mr Pohiva's home as he was receiving treatment for an unknown medical condition in New Zealand.