French colonel 'killed himself in pro-Hmong protest'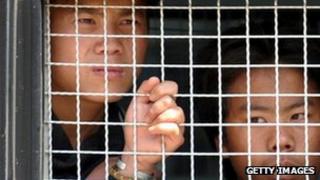 A retired French colonel has killed himself to protest against "indifference" to the plight of Laos's Hmong minority, French media say.
Col Robert Jambon, 86, shot himself in October on the steps of the "Indochina monument" in Dinan in western France.
In a suicide letter published by Ouest France, he described his action as "an act of war aimed at rescuing our brothers-in-arms facing death".
Ethnic Hmong have been complaining of discrimination in Vietnam and Laos.
Col Jambon fought alongside Hmong during France's war in South-East Asia in the 1940s and early 1950s.
Many members of the community joined French forces during the conflict - known in the country as the "Indochina war".
In the suicide note, the colonel wrote: "After a long period of disappointment I have decided to play my final card, or more precisely my final bullet."
He said the suicide was aimed at expressing his "shame and to protest against the cowardly indifference of our officials in the face of the terrible misfortune that is hitting our friends in Laos".
Col Jambon said he had been particularly outraged by the lack of international reaction to Thailand's decision to expel thousands of Hmong refugees two years ago.
"As for you, governments without honour and big media without honour, I spit my blood and my contempt in your face," his letter says.
The Hmong communities of northern Laos and Vietnam also fought alongside US forces during the Vietnam War, and feel they are discriminated against because of their past.