Khmer Rouge leader Ieng Thirith 'unfit for trial'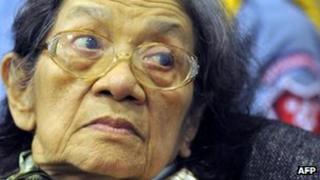 A top Khmer Rouge leader charged with genocide is unfit to stand trial, judges at Cambodia's UN-backed tribunal have ruled.
Ieng Thirith, the Maoist regime's social affairs minister, had been due to go on trial on Monday, with three other top-level officials.
But experts say she has Alzheimer's disease and judges think she could not meaningfully participate in her trial.
Her husband Ieng Sary will be tried as scheduled at the court in Phnom Penh.
He was the regime's foreign minister. He will be tried alongside Nuon Chea, who was Pol Pot's deputy, and Khieu Sampan, the regime's head of state.
It is the tribunal's second trial. Earlier this year former prison chief Duch, who oversaw the deaths of thousands of Cambodians at the Tuol Sleng prison, was convicted and jailed.
The judges said prosecuting Ieng Thirith served no purpose.
"Trial and continued detention of an accused who lacks capacity to understand proceedings against her or to meaningfully participate in her own defence would not serve the interests of justice," they said in a statement.
As many as two million people are thought to have died from overwork, starvation or execution during the four years of Khmer Rouge rule from 1975-1979.