Kazakhstan President Nazarbayev calls snap election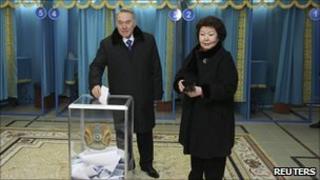 Kazakhstan President Nursultan Nazarbayev has dissolved parliament and called a snap election for mid-January.
The move, which was widely expected after he won April's presidential poll, will dilute the governing party's monopoly.
Mr Nazarbayev's Nur Otan party, which has 98 of the 107 parliamentary seats, is widely expected to win most seats.
But the elections could pave the way for a second-placed party to have a presence in parliament.
The country's one-party lower house of parliament, the Mazhilis, asked the president last week to dissolve the chamber ahead of the vote.
Oil-producing state
The first part of the poll, the election from party lists, will be held on 15 January 2012.
The next day, other deputies will be chosen by the People's Assembly of Kazakhstan, a consultative body loyal to Mr Nazarbayev.
Analysts and poll observers say there has not been a fair poll in the country in the last 20 years and warn that any party that manages to come second is likely to be widely sympathetic to the governing party and pose no challenge to Mr Nazarbayev's leadership.
In April's presidential vote, which was criticised by international observers, Mr Nazarbayev won 95.5% of votes. In the 2005 election, he won 91.2%.
His current term was to have ended in 2012, but he called the early poll after a proposal to cancel the next two elections was ruled unconstitutional.
Under a 2007 constitutional amendment, there is no limit on the number of terms the former Communist Party boss may serve in office.
Mr Nazarbayev has argued that economic prosperity should come before democracy.
Kazakhstan is Central Asia's largest economy and oil producer and, having reformed its market, has achieved annual economic growth of around 8% over the last decade. It has attracted more than $120bn ($76bn) in foreign investment since independence.