China farms: 10% of land polluted, officials say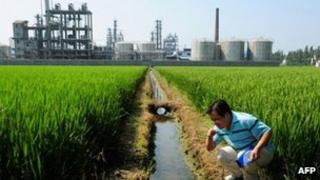 A government study has found that a tenth of China's farmland contains "excessive" levels of heavy metals such as lead, mercury and cadmium.
State-owned media quoted the report as saying the polluton was due to contaminated water and poisonous waste seeping into the soil.
The report did not say what level of heavy metals was considered excessive.
China's economic growth has led to it having some of the world's most polluted skies and waterways.
'Striking problems'
"Heavy metal pollution incidents have occurred repeatedly in recent years," Wan Bentai, chief engineer at the Ministry of Environmental Protection, told the Southern Metropolis Daily.
"From January to August alone there were 11 incidents, nine involving lead," he is quoted as saying.
Mr Wan told the paper that the survey of soil pollutants found that "in total about 10% of farmland has striking problems of heavy metal levels exceeding [government] limits."
Exposure to lead and other heavy metals can damage nerves, reproductive systems and kidneys, and cause other health complications, especially in children.
In recent years, there have been numerous examples of industrial spills or dumping that have damaged waterways and in some cases harmed residents.
Earlier this year, Environment Minister Zhou Shengxian warned that pollution and the demand for resources threaten to choke China's economic growth.