Ai Weiwei China tax bill paid by supporters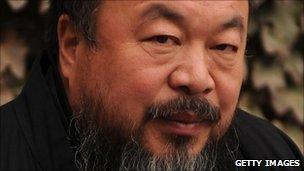 Thousands of people have donated money to pay a massive tax bill served on Chinese artist Ai Weiwei.
By Monday, there had been donations totalling more than 5m yuan ($790,000; £490,000) to pay off the $2.4m in taxes and fines the authorities say he owes.
Many people believe he was served the bill because of his outspoken criticism of the government rather than because he had evaded taxes.
But a state-run newspaper has warned that the donations could be illegal.
An editorial in China's English-language Global Times newspaper cited unnamed experts as saying the artist could be accused of "illegal fundraising".
The paper also said this show of support was not representative of the views of the larger Chinese population, "which is opposed to radical and confrontational political stances".
The donations began shortly after the internationally renowned artist announced that he had received the tax demand.
People have handed over money using bank transfers and postal orders - and some have flown cash folded into paper planes over the wall into his compound, the BBC's Michael Bristow in Beijing reports.
According to a posting on the social networking site Twitter by Liu Yanping, a volunteer at the artist's studio, almost 20,000 people have so far handed over money.
"These are tens of thousands of people bringing in the money," Ai Weiwei told the BBC.
"They all have one message: we're supporting you, we're behind you, we have to let the people know solidarity and we know what it is and we know the accusations are fake, they're unreal."
Mr Ai - who has sold artworks around the world - has admitted he does not need the money, and has vowed to pay people back later.
He says the donations are an expression of people's feelings about the way he has been treated.
One reader, from Guangzhou, told the BBC he had sent money because it was a "rare opportunity to support what I believe".
"I will keep my receipt of the postal order forever, because it is my first real vote," the reader wrote.
Another reader, from Nanjing, told the BBC the 100 yuan they had sent was "for the protection and demonstration of human rights of dissidents".
The tax bill relates to late payments and fines connected to Beijing Fake Cultural Development Ltd, a firm that produces the artist's work.
Although Mr Ai said he was only a "designer" at the company, the authorities maintain that he is the "actual controller".
He was detained at Beijing Airport in April as he tried to leave the country and held for nearly three months.
He was released without charge in June, but accused of tax evasion. The current bill is how much the authorities say he owes.
But Mr Ai said this demand was just a cover, and he was being persecuted for his political beliefs.
Over the last few years Mr Ai, who helped design Beijing's "Bird's Nest" Olympic stadium, has been one of the government's most outspoken critics.
"During the 81 days of my arrest, inside this secret place, they accused me of subversion of state power," he said last week.
But he said he was told he had to be charged with tax evasion. The police told him: "We want people to think you are a bad guy."
Mr Ai has until the end of the week to pay up. He has not yet decided what to do.