Sex harassment 'rife' at Australia military academy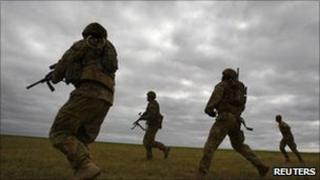 Women in Australia's top military academy face "widespread low-level sexual harassment", a review has found.
The review, carried out by Human Rights Commissioner Elizabeth Broderick, said the situation had improved significantly in the last decade.
But it said that cultural changes were needed at the Canberra-based Australian Defence Force Academy (ADFA).
The review was ordered in the wake of a sex scandal at the institution.
Two cadets were accused of secretly filming a female cadet having sex and broadcasting it on the internet.
They have now been charged in connection with the incident, which raised questions about the treatment of women throughout the Australian military establishment.
'Cultural evolution'
More than a quarter of all cadets and staff at the academy were interviewed by officials conducting the review.
Many women "stated clearly that they are treated equally and fairly", the report said. "The predominant view was that for most women, most of the time, ADFA was a good environment."
But 74% of female cadets said they had experienced harassment.
"Widespread, low-level sexual harassment exists at ADFA," Ms Broderick wrote.
"Women disproportionately experience gender and sex-related harassment, as well as general harassment and discrimination."
Data showed there had been "isolated incidents of serious sexual misconduct in recent years, including sexual assault", said the report.
Part of the problem was inadequate supervision in some areas and a poor complaints procedure.
The review made 31 recommendations, including a establishing a mentoring programme for cadets, more education on gender relations and increased control over cadets' alcohol consumption.
Ms Broderick said the academy and wider military needed to develop "a plan for cultural evolution which is more inclusive of women".
"This necessarily also requires a shift from managing and accommodating women to an attitude of full inclusion, where women are recognised as an essential and vital part of the future capability of the ADF [army]," she said.
Defence Minister Stephen Smith said the government would "determine the best way forward in formally adopting and implementing the review recommendations".
Navy case
Ms Broderick is also carrying out a wider review of the treatment of women throughout the Australian military which will be completed in 2012.
A separate review, ordered by the Department of Defence, has received more than 1,000 allegations of abuse, ABC News reported last month.
Reviews have also been ordered into the use of alcohol and social media in the military.
The sex scandal at the academy in April followed another relating to the navy.
In February, the defence department released a report chronicling what it called a culture of predatory sexual behaviour on board the naval supply ship HMAS Success.
It revealed a fiercely tribal culture in which women sailors were treated with disdain, alcohol was seriously misused and discipline had broken down.
In September, in a separate incident, a navy cadet was convicted of raping a female colleague as she slept.
The man, who filmed himself committing the act on his phone, told a court that he did it to be accepted by his peers, and that filming sexual exploits and bragging about them was common.