James Soong enters Taiwan presidential election race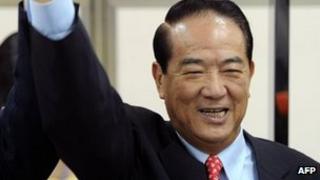 A third candidate, James Soong, has announced he will contest Taiwan's presidential election in January.
The move could jeopardise President Ma Ying-jeou's chances of being re-elected and potentially derail recent efforts to improve relations with China.
Mr Soong, who heads a small opposition party, ran for president in 2000.
At that poll he split the ruling Kuomintang (Nationalist Party) vote, allowing opposition leader Chen Shui-bian to take power.
Close race
A seasoned politician, James Soong is known to take things into his own hands.
He was a member of the Kuomintang in 2000 but when he did not get his party's nomination he formed his own party and ran for president.
That decision split the votes of supporters of the so-called pan-blue camp, which favours improving ties with China and not Taiwanese independence.
As a result Chen Shui-bian, the candidate from the opposition party DPP, which favours Taiwan's independence, was elected with the largest percentage of votes.
Eight years of tensions with Beijing followed. The same outcome is feared for this upcoming race.
Opinion polls show Mr Ma only has slightly more support from voters than opposition candidate Tsai Ing-wen.
Ms Tsai is believed to favour Taiwan independence at heart, although since declaring her candidacy she has said she is open to negotiating with China and would not cancel the free-trade agreement signed under Mr Ma.
Still, there are fears that a victory by Ms Tsai could bring tensions with China and instability to the region.
Beijing still claims the island as its province and hopes recently improved ties can lead to eventual unification.
Mr Soong has told reporters he wants to run because the current government is not responding to the people's needs for stable jobs and a narrowed wealth gap.