'Love Post' tackles China's rising divorce rate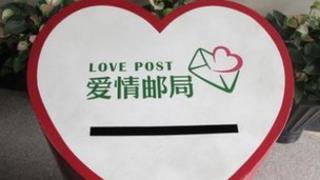 China's post office is not normally a place you would associate with love.
But the state-run institution in Beijing is promoting a scheme which it hopes will stem the country's rising number of divorces.
Newly-wed couples are being offered the chance to send sealed love letters which will be delivered seven years after their big day.
The idea is that couples thinking of splitting up will receive a timely reminder of why they got together in the first place.
Zhang Ying and Liu Cheng are a young Beijing couple about to tie the knot, but they want to factor in the seven-year itch.
So they are planning to take advantage of the post office's scheme and write letters to each other.
Mr Liu said the contents of his letter were for his wife-to-be alone. But Ms Zhang said she would ask her husband to "hold my hand and grow old with me".
'Short cut'
Once rare, divorce is now common in China. The number of failed marriages has doubled in the last decade.
Last year, a total of 1.96 million couples applied for divorce, a 14.5% increase on 2009.
As in other countries, growing personal freedoms and wealth are getting the blame.
"If you look at the fashion industry it went from Karl Marx to Karl Lagerfeld just like that," says Angelica Cheung, editor of Vogue China.
"What we experienced in the last 10 years was equivalent to what Western societies experienced in 50 years.
"People could see expensive cars, expensive houses and that had an impact on marriages. Girls in particular thought that would be a short cut to a good life," she said.
'Anti-women'
A recent change to the marriage law has brought the issue of money and love into sharp focus.
Traditionally, men buy the marital home. In a recent survey, 70% of women said that a man had to have a house before they would get married to him.
Before the enactment of the new law, if a couple got divorced the house would be spilt.
But now the property will be divided, according to how much each partner paid towards the home.
It is big change and coupled with soaring house prices is generating strong emotions among the public.
"I think this new law is anti-women," said one resident, Ms Liu, as she shopped in Beijing. "But then marriage isn't just about property - money shouldn't matter that much."
But other passers-by disagreed.
"Women don't have the same financial burden when they marry," said Mr Gao. "Men have more responsibilities as we are expected to buy a home. So maybe this will make our lives easier."
Nasty surprise
The law has many women worried, according to Wang Xiuquan, a divorce lawyer who deals with dozens of cases every year.
He says that attitudes to marriage have radically changed in China.
People nowadays, he says, want greater equality in marriage and when a relationship breaks down they are far more likely to divorce than the older generation.
With men traditionally buying the home, many women believe they are vulnerable.
Some, in the event of divorce, could end up homeless. But if children were involved then the father - in most cases - would need to provide financial assistance to the mother looking after the children.
Mr Wang believes that the new law is a positive development as it reflects the changes in society.
"The new marriage law amendment helps the legal system to deal with divorce cases," he said. "But it can't change people's attitudes towards marriage."
The post office is hoping its scheme will stop some couples reaching the divorce courts.
They are also producing special stamps, postcards and even a Love Passport which can be stamped on every anniversary.
The success of the scheme will not be known for another seven years, believes its creator, Sun Buxin, a manager of a Beijing post office branch.
As for those who divorce during this period, they could be in for an unwelcome surprise.
"If couples don't tell us to cancel the service," said Mr Sun, "we'll still deliver the letter".