Bangkok floods: Anger grows in deluged districts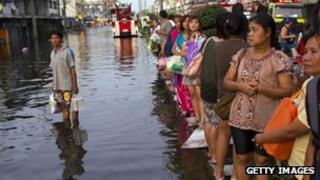 Flood water has continued to pour into outer districts of the Thai capital, Bangkok, forcing residents to evacuate.
The government says efforts to protect the centre of the city from the rising water have been largely successful.
But tension has been rising in flooded suburbs, with residents demanding barriers be opened to allow water out.
In one area residents forced officials to open a sluice gate, potentially threatening an industrial estate.
Accumulated flood water caused by weeks of monsoon rain is still being drained from the central provinces through channels in and around Bangkok to the sea.
Officials are warning it will be many weeks before the situation stabilises.
'Have to be tough'
Downtown Bangkok may have been spared, but the districts which surround the centre are taking a heavy toll and resentment is growing, reports the BBC's Rachel Harvey in Bangkok.
The government appears to have bowed to pressure from angry residents in the east of the city who demanded a local sluice gate be opened to allow more water to flow out of their flooded neighbourhood.
That has led to renewed tension with the Bangkok city authorities who fear the move might put the Bang Chan Industrial Estate at risk.
Bangkok Governor Sukhumbhand Paribatra said the needs of all residents had to be balanced.
"I love the people, as do other elected politicians, but sometimes I have to be tough with the demands of the minority for the sake of the majority," he said. "I cannot yield to every demand."
Hundreds of factories have already had to close because of the floods, putting tens of thousands of people out of work.
Supply chains have been badly disrupted, our correspondent adds. A shortage of parts has forced the Japanese car maker, Honda, to halve production at its north American operations.
As well as the economic cost of the crisis, humanitarian organisations are warning that affected communities will need regular supplies of aid for weeks to come.