Qantas dispute: Ruling a strategic victory for airline?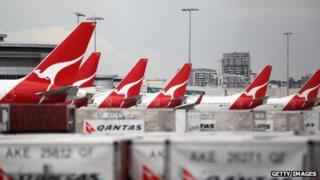 On the surface of things, the Fair Work Australia (FWA) ruling looks like a humiliation for Qantas CEO Alan Joyce as his airline is ordered back into the skies - having been unilaterally grounded by the airline's management.
But it could in fact be a strategic victory for Mr Joyce.
Having failed to get the main unions at Qantas (baggage handlers, engineers and pilots) to engage in meaningful talks since a massive restructuring plan was announced in August, Qantas's warring sides have now been ordered by the FWA tribunal to do exactly that.
After Qantas's unprecedented lock out, FWA has in effect locked the company and its unions in until such time as they come up with a long term solution to their awful industrial relations record.
While it may be a strategic victory, it certainly won't be a financial one for Qantas.
Each day that the planes were grounded cost it £13m. That's on top of the £48m that the strikes since August have cost.
But the reputation damage inflicted by this dispute on Qantas could be very profound and way more expensive.
Reverse takeover
The strategic direction of Qantas remains towards East Asia.
Its wholly owned subsidiary Jetstar, based in Vietnam and Singapore, is the model for future growth.
Jetstar, which avails of cheaper Asian wages, property and servicing costs, is far more profitable per customer than the Australia-based Qantas.
It's also perfectly positioned to tap into the rapidly emerging middle classes in China, Malaysia, Vietnam, Thailand and other regional nations.
So if anything Qantas is queuing up for a reverse takeover by its subsidiary Jetstar.
The other advantage of moving assets out of Qantas and into Jetstar is that the former (and not the latter) is covered by an act of parliament in Canberra introduced at the time of the airline's stock exchange floatation (privatisation) in 1990.
The Qantas Sale Act prevents the airline from falling into foreign hands and restricts non-Australian ownership to 49% of the shares.
But if management was to transfer assets (including staff) gradually to a subsidiary that is not covered by that Act, ie Jetstar, then Qantas might end up being a global brand without any major assets - all sizzle but no steak.
That would be bad for the brand but good for the share price, which has collapsed by 45% over the past year.
If the trade unions know this, then their resistance to the strategic plan from August is totally understandable.
Sunday's FWA ruling will force them to negotiate at a pace they won't like.
Of course, the looming binding arbitration may also force Qantas management to dilute its plans to move swiftly away from Australia.