Thailand floods: Nervous wait for Bangkok residents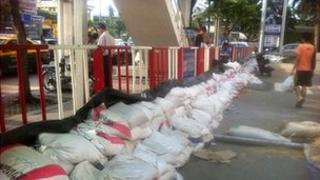 Flyovers are congested with cars parked two or three abreast as residents try to ensure their precious vehicles are not damaged or swept away by the flooding that threatens central Bangkok.
"It's actually quite a problem," says lawyer Tanyarat Rattobut.
"People have died crashing into them, but they think this is the best way to save their cars.
"The police have no choice, there are just too many cars to move them."
The wooden two-storey home she shares with her parents, who are both in their 80s, lies in the west of the city overlooking a canal and is raised a few feet off the ground in the traditional Thai style.
Months of heavy monsoon rain has caused major flooding in Thailand and parts of neighbouring Vietnam and Cambodia too.
In Thailand alone more than 370 people have died so far with the rains swelling Bangkok's Chao Phraya River, which the Thai authorities fear could burst its banks at any moment.
'Just don't know'
"It makes me very nervous seeing the waters," says the 44-year-old.
"I am sure that it is coming but I just have to wait and nobody can tell me how close it will be.
"There are so many mixed messages. One of the Thai channels on TV says it will peak on Monday, another one says it could last for six to eight weeks. We just don't know what to expect."
Schools have been told they will not reopen for the new term until mid-November.
As an emergency measure Prime Minister Yingluck Shinawatra declared a five-day holiday to encourage people to leave the capital and 20 other flood-affected provinces.
"The holiday is due to end on Tuesday but there is no sign all the water has come yet or that it is going down, so you will have chaos when everyone tries to come back," Mrs Rattobut adds.
The historic former capital, Ayutthaya, has been inundated and the water has now reached parts of the Grand Palace complex in Bangkok.
However, King Bhumibol Adulyadej ordered that no special measures should be taken to protect the palaces.
'Can't walk far'
His spokesman said he wished flood barriers to be erected in the city centre instead to minimise the loss of human life.
Many people left the city days ago, but there are still sizeable pockets of dry land in Bangkok.
"My parents are in their 80s, and they are very dependent on me," says Mrs Rattobut.
"They can't walk very far at all. I asked them if they wanted to move out but I got the feeling they wanted to stay if at all possible."
Mrs Rattobut has signed up to a receive a text alert from the authorities informing her if she needs to evacuate her home.
Residents have been given a number to call if they need rescuing by boat but have been told to allow up to five hours for help to arrive.
In the event they do need to evacuate, Mrs Rattobut will move with her parents and her 15 dogs into her husband Andrew's high-rise flat 8km (five miles) away.
Small convenience stores like 7-Eleven and Tesco Lotus are running low on basic supplies but larger stores inside the nearby shopping mall are still selling most products, she says.
Bottled water is harder to find though.
"A lot of people have left their homes without their animals. There's a lot of dogs crying out for food.
"If we survive the floods the next thing to worry about is waterborne diseases."