Henan riot: China anger after drunk police accident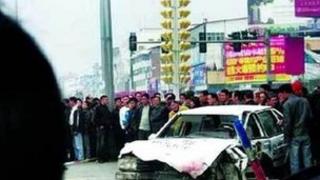 There have been violent protests in the central Chinese province of Henan after a policeman suspected of drunk driving crashed his car and killed five people.
According to China's official Xinhua news agency, the policeman was arrested after his car hit two lamp posts, which fell on top of people.
Witnesses and local reports said a crowd stopped the police taking away bodies, damaging and flipping hearses and a police van.
Protests are on the rise in China.
Earlier this week there were two days of disturbances in Zhejiang province, in eastern China, after protests escalated over taxes.
Analysts say the protests - or "mass incidents" as Chinese officials call them - are often fuelled by anger at officials and corruption.
There have also been several incidents involving figures in authority who have harmed ordinary people and appeared to get away with it.
Following the latest incident, which took place in the county of Runan, Chinese bloggers circulated pictures appearing to show the police car and aftermath of the protests.
The BBC was not able to verify the images.
China's official media, which is wary of reporting social unrest, did not mention the disturbances.