Gas explosion kills 29 in Chinese coalmine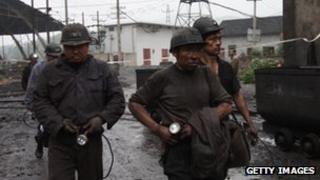 A deadly blast at a coal mine in southern China has killed 29 people.
The gas explosion took place at a colliery in Hunan province, Chinese state media reported.
Six miners were being treated in hospital after being rescued from the Xialiuchong Coal Mine, owned by the Hengyang city government.
China's mines are the deadliest in the world, although the number of miners killed has been falling in recent years.
In 2010, 2,433 people died in coal mine accidents in China, although this was an improvement on the toll of 2,631 a year earlier.
The industry's safety record has improved in recent years as smaller, illegal mines have been closed, but labour rights groups say the actual death toll is likely much higher than official statistics, partly due to under-reporting of accidents as mine bosses seek to limit their economic losses and avoid punishment.
Annual fatalities are about now at about one-third of the high of nearly 7,000 who died in 2002.