Anger and dismay at Qantas move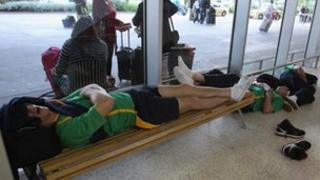 The Australian government is to intervene in an industrial dispute that has prompted the national airline Qantas to ground its entire fleet indefinitely.
The spectacular move by the airline has been condemned as a "maniacal overreaction" by trade unions, and even the Federal transport minister, Anthony Albanese, was caught by surprise.
Mr Albanese said he been given no advance warning, accusing Qantas management of "a breach of faith" as he pleaded with both sides in an increasing toxic conflict to be mature and acknowledge their shared interests.
"I would hope the parties to this dispute act like adults," the minister told reporters.
The government will now ask a labour tribunal to stop the dispute. It will hold an emergency hearing in a bid to broker a ceasefire.
Common ground, though, is hard to find.
Qantas' Irish-born Chief Executive Alan Joyce said that unreasonable demands from trade unions were to blame for forcing him to take such drastic action. "They are running utterly destructive industrial campaigns. They are trashing our strategy and our brand," he said.
The Transport Workers Union has questioned the legality of Qantas' decision, while one pilots' leader said Alan Joyce had "hijacked the nation".
"I think it is a pre-planned union-busting move," said Captain Richard Woodward, the vice-president of the Australian and International Pilots' Association, "Alan Joyce is holding a knife to the nation's throat."
Other unions have also reacted with dismay.
"I think this is an extreme measure for the CEO and airline to take given we've cancelled our industrial action for the next three weeks," said Steve Purvinas, the federal secretary of the Australian Licensed Aircraft Engineers Association, one of three unions involved in the ongoing feud with Qantas.
At the heart of the dispute are concerns about pay and job security along with cost-cutting and the subcontracting of work overseas as Qantas looks to set up new airlines in Asia and sack hundreds of staff to revive its sagging international fortunes.
Workers, from baggage handlers, catering workers to ground staff, fear the Flying Kangaroo will abandon its iconic Australian roots. They have taken rolling strike action since September.
But employees involved in industrial stoppages will be locked out from Monday evening and will not be paid.
Geoffrey Thomas, an aviation writer at the West Australian newspaper, told the ABC that Qantas had acted in sheer desperation.
"It is an amazing turn of events although I don't believe the airline really had any choice but to take the action it has, because what the unions are demanding, they (Qantas management) simply can't deliver," he said.
At Sydney international airport, feelings among marooned passengers oscillated between anger and frustration. The airline will offer hotel rooms and flights on other carriers for some of those stranded, while refunds will also be available.
Updates will be available on Facebook and Twitter, but the advice for travellers is stay at home or try another airline.
Qantas' decision to pull its entire international and domestic fleets from the skies comes during one of Australia's busiest travel weekends, with tens thousands of people converging on the hugely popular Melbourne Cup horse race on Tuesday, an event that stops the nation for a few, brief minutes.
Now Australia is mired in an industrial standoff that is costing Qantas an estimated A$20 million a day, and which threatens to hobble air travel indefinitely across this vast continent and beyond.