Huzhou unrest: Tax row sparks riot in China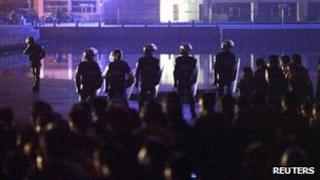 Hundreds of business owners have clashed with riot police in an eastern Chinese city after a row over taxation, reports on official media say.
The unrest was sparked when the owner of a children's clothing firm in Huzhou city refused to pay his tax bill.
Reports say the man gathered friends to attack the local tax collector, and the row snowballed into a riot where people threw stones and overturned cars.
China has thousands of riots every year, often sparked by minor rows.
Analysts say the riots - or "mass incidents" as Chinese officials call them - are often fuelled by economic pressures such as the rapidly rising cost of basic goods.
Unrest
Zhejiang Online, a government-run news portal covering Zhejiang province, said about 600 people were involved in the unrest, which began on Wednesday and continued into Thursday.
The website said a group of about 100 people swarmed toward government offices in Huzhou's Zhili township, throwing stones, destroying street lights, and smashing car windows.
Pictures spreading on Chinese social-media websites showed a burnt-out bus, crowds blocking traffic, and lines of riot police.
Officials contacted by journalists on Thursday said the situation was now calming down.
The man who refused to pay his tax bill was from neighbouring Anhui province, according to official media.
The AP news agency quoted a local doctor as saying he was outraged when a tax collector tried to charge him a higher rate than that paid by local business owners.
The report could not be confirmed.